So I've been cleaning my hands A LOT lately. We all have, I know.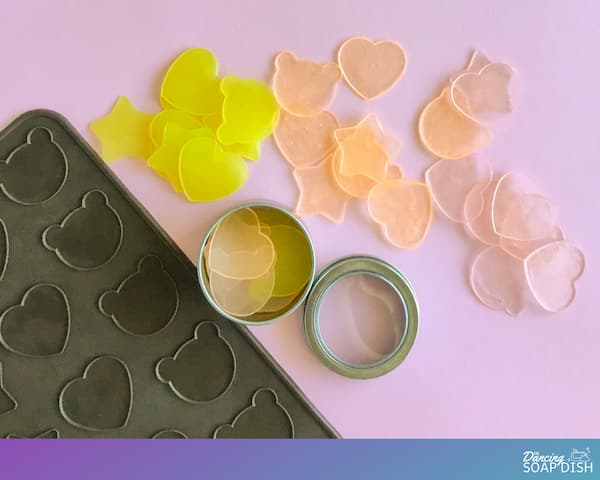 Having sensitive skin and a sensitive respiratory system to go with it, I'm usually very careful about the ingredients and fragrances in the soap I use. But lately I haven't had a lot of choice. I've been compelled to use whatever soap (or hand sanitizer) is on offer whenever I'm out and about away from home.
And it's starting to take its toll.
---
This post contains affiliate links. If you buy something through one of those links, I will receive a small commission at no extra cost to you. As an Amazon Associate I earn from qualifying purchases.
Thank you for supporting my site!
---
I'd love to take my own soap with me, but often that's not practical. Containers of liquid soap can leak through your handbag and a bar of soap in a container just ends up messy and gross.
Yes I know that is why hand sanitizer was invented, but those with sensitive skin and respiratory systems will agree with me when I say that hand sanitizers are a necessary evil, but one I would like to avoid if at all possible.
Then I spotted this cute macaron mat online, and an amazing idea came to me.
A single-use bar of soap!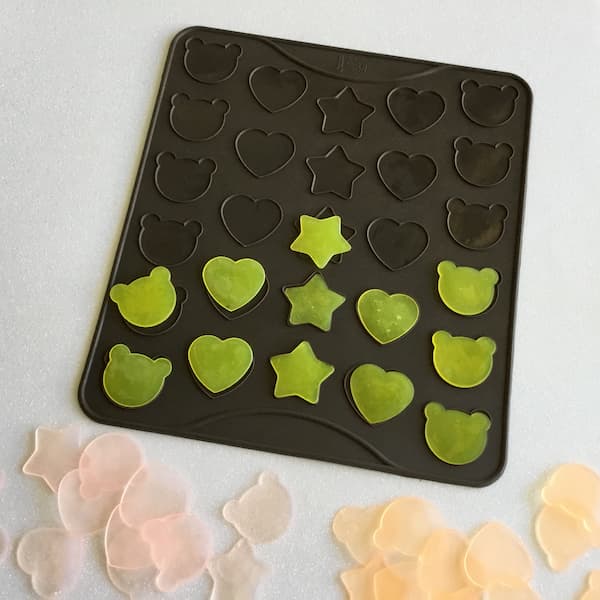 What is a single-use bar of soap?
A single-use bar of soap is a tiny amount of soap formed into a very thin bar. Basically just enough to wash whatever you are wanting to wash just the one time.
The idea is that when you have finished your washing, there will be very little or no soap left, and whatever is left can be easily discarded.
When you think about it, single-use soap has a host of useful applications that can be undertaken anywhere you can find water (or a bottle of water):
Regular hand washing
Camp showers
Picnics
Backpacking holidays
If you've got another great scenario where a single-use bar of soap will come in handy, share it with the rest of us in the comments section below.
How do you make a single-use bar of soap?
Preferably, single-use soap bars are very thin with a large surface area, as this is much easier to hold in your hand and wash with versus a soap bar shaped like a pellet.
In the past, others have used melt and pour soap poured out thinly into trays and then cut out shapes with knives or cookie cutters.
As you can imagine, this isn't easy to do. Plus, there is often a certain amount of wastage.
Hence my idea to use this macaron mat. A thin layer of melt and pour soap can be poured onto the mat between the ridges of the macaron templates and, once hardened, will pop easily off the silicone mat with little mess or fuss.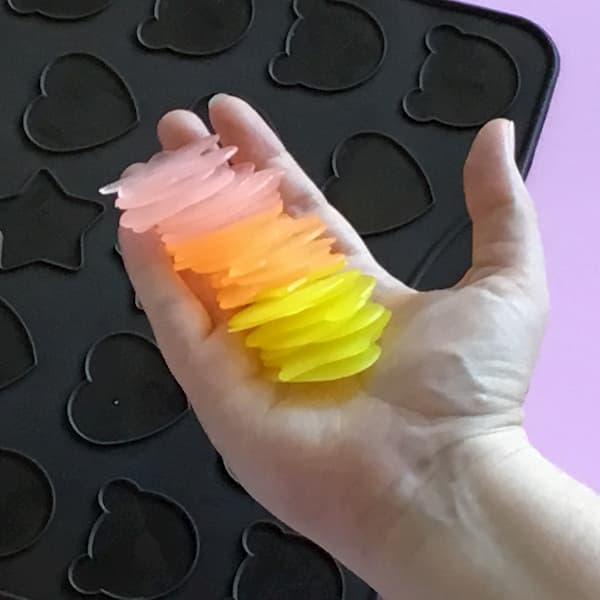 The benefits of making your own single-use soap
The benefits of making your own single-use soap are many.
You get to choose the soap base.
Having full control over the type of melt and pour soap base you use enables you to pick one that best serves your needs. It might be a goat's milk base for sensitive skin or avoiding nasties by choosing an SLS/SLES-free base, or even standing up for the environment with a palm oil-free melt and pour soap base.
Colouring or no colouring – it's your choice!
Want to add a pretty colour or even some glitter or mica – go for it! Is plain and simple more your style? You can have that too.
While colouring isn't a crucial element of single-use soap bars, you can have so much fun with it, so I encourage you to get creative.
You control the fragrance.
Making your own soap allows you to control how your soap is scented. If you are really sensitive to artificial fragrances and parfum, you can avoid them all together by using essential oils to scent your soap. You may even prefer to add no scent at all.
A clean and fresh scent is something we have come to expect when washing with soap, so I highly recommend you scent your single-use soap. Here are some of my favourite essential oil blends for soap making to get you started.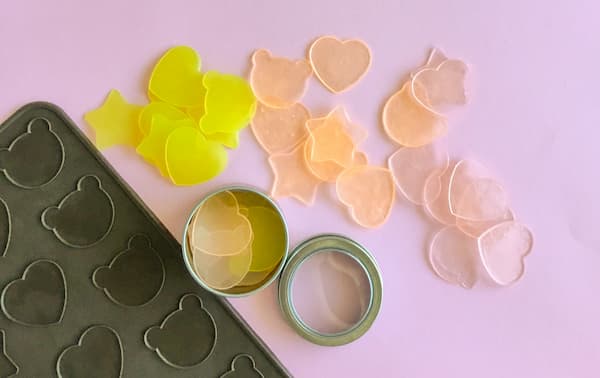 What You Need to Make Single-Use Soap
Melt and Pour Soap
You will need a melt and pour soap base to make single-use soap. Melt and pour soap is sold as large blocks that you can cut up and then weigh out the amount of soap you need. This is perfect for single-use soap because we are working with very small quantities.
For this project, I used 90g of melt and pour soap base divided into three different colours of 30g each. This yielded me 12 single-use soaps in each colour, or 36 bars all up.
I only filled part of the macaron mat for each colour I made. If you would like to fill the entire macaron mat, you will need 70g of melt and pour soap base.
I chose a clear, glycerine-based soap because I love the transparent look of my super thin soap bars, but you can use any type of clear or opaque melt and pour soap bases to make single-use soap.
Macaron Mat
A macaron mat is a special baking mat used to bake macaron cookies. It has tiny raised rings on its surface in order to perfectly shape the macaron shells as they cook.
These macaron shell templates are also perfect for producing super thin slivers of soap with a large surface area – exactly what you want for single-use soap. A macaron mat's surface is 100% non-stick which means when your soap has hardened it will pop right off.
I used this macaron mat to make my single-use soap as I loved the variety of shapes it had on it (most mats simply contain circles). This macaron mat also has some super cute shapes, and I can't wait to use this one at Christmas.
Soap Colouring
A single drop of soap colouring was all I needed to subtly tint my single-use soap bars. But you could also use coloured micas or increase the amount of soap colouring you use to get your desired colour strength.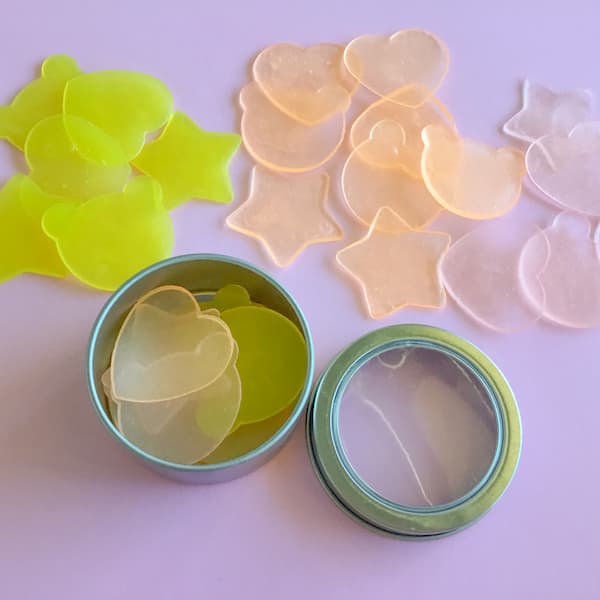 Essential Oils
Choosing a bespoke scent for your single-use soap bars needn't be hard. I love scenting my melt and pour soap projects with a range of essential oil blends.
For this project, I used the following blends:
Pink Tinted Soap – Juniper Berry, Geranium and Jasmine at a ratio of 4:3:3.
Orange Tinted Soap – Mandarin, Lavender and Roman Chamomile at a ratio of 5:3:1.
Yellow Tinted Soap – Lemon and Tea Tree at a ratio of 1:1.
But you can feel free to use your favourite combination of essential oils. If you are looking for ideas, check out my list of perfect essential oil soap scents.
Additional Items Required
Rubbing Alcohol or Vodka in a Small Spray Bottle – Spraying your soap with alcohol will help it to spread quickly to the edges of the macaron mat. It will also remove any bubbles sitting on the soap's surface.
Kitchen Scales – I've used grams in this recipe because the amounts are easier to manage compared with ounces. Most kitchen scales these days are interchangeable between grams and ounces. Check your scale's instruction booklet for how to change you scale to measure in grams and then change it back when finished.
Glass Measuring Jug – I have a separate glass measuring jug dedicated to essential oil DIY (soap making, lotion bars, lip balm etc) to avoid any cross-contamination of non-ingestible ingredients with food. I recommend you do the same.
Metal or Bamboo Skewer – Skewers are super handy for stirring and can be easily cleaned or disposed of. Of course you can use a metal spoon for stirring, but as I mentioned with the measuring jug, I recommend you don't use the spoon for food afterwards.
Paper Towel – Make sure you have some paper towel on hand for cleaning up (there may be drips) and for resting your skewers on after stirring.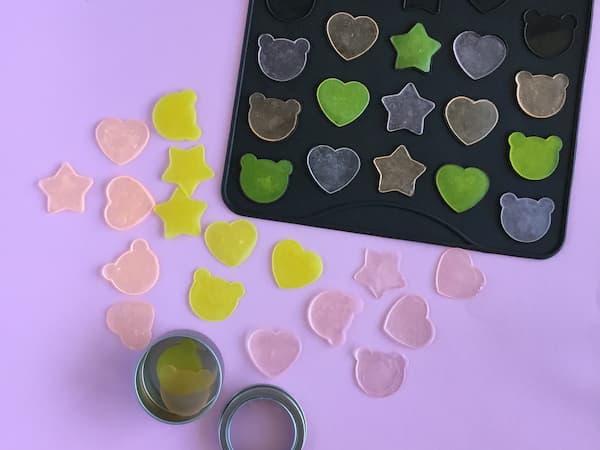 Printable Tutorial for Single-Use Soap
Want yours to look like mine?
For this project, I used 90g of melt and pour soap base divided into three different colours of 30g each. This yielded me 12 single-use soaps in each colour, or 36 bars all up.
I only filled part of the macaron mat for each colour I made. If you would like to fill the entire macaron mat, you will need 70g of melt and pour soap base, as per the recipe below. This will yield 27 super thin, single use soap bars.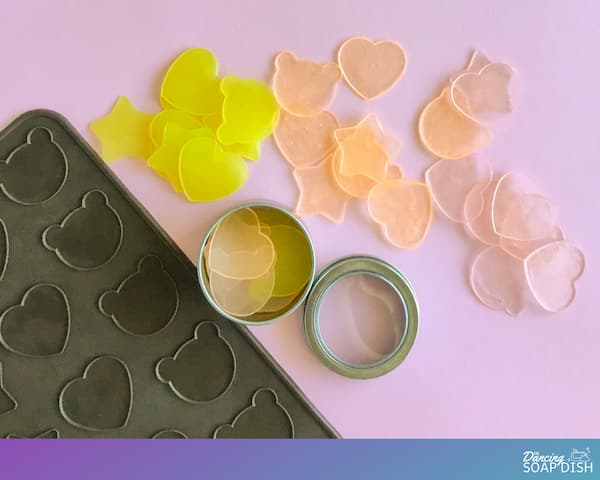 Super Thin Single Use Soap
Come learn about how and why to use single-use soap, plus how you can easily make some with the help of a macaron baking mat.
Equipment
Alcohol in a Small Spray Bottle

Kitchen Scales

Glass Measuring Jug

Bamboo or Metal Skewer

Paper Towel
Ingredients
70

g

Melt and Pour Soap Base

20-25

drops

Essential Oil

2

drops

Soap Colouring

1

Macaron Baking Mat
Instructions
Use a set of kitchen scales to measure out 70g of melt & pour soap.

Cut up your soap into small cubes (for easy melting) and then place them in a glass measuring jug.  Melt in the microwave in short bursts of 30 seconds, stirring well in between.

Repeat until your soap is melted (watch it carefully, don't let it boil!).

Add the soap colouring and essential oils.  Stir well with a skewer until the essential oils are well combined and you have an even colour. If your soap mixture has lots of bubbles in it, spray the surface with alcohol and then gently stir again to get rid of the bubbles.

With your jug of melted soap in one hand, and your spray bottle of alcohol in the other, very carefully pour a small amount of soap mixture into a template on the macaron mat. Immediately spray the soap with alcohol, doing so will help your soap spread out to the edges of the template.

Continue pouring and spraying until all templates on the macaron mat have been filled.

If there are bubbles present on the surface of your soap, a couple of sprays of alcohol should remedy this.

Any overflow of soap outside the lines of the templates can be cut or snapped off once the soap has hardened.

Set your soap aside to harden overnight.

To release your soap gently bend back the silicone mat and your soap bars should pop right off.
Cleaning Up
Wipe any excess soap out of your glass measuring jug with a paper towel. Then soak your measuring jug in water for ten minutes before rinsing it out and wiping it dry with another paper towel. Now you can hand wash it or put it in the dishwasher as per normal.
Storage and Use
You can store your single-use soap bars in a zip-lock bag or small metal container. Be careful to keep them cool and dry so they don't stick together.
One single-use soap bar is enough to wash your body for the duration of one shower, or for up to four members of the same family to wash their hands at one time.
Discard any left over soap once you have finished.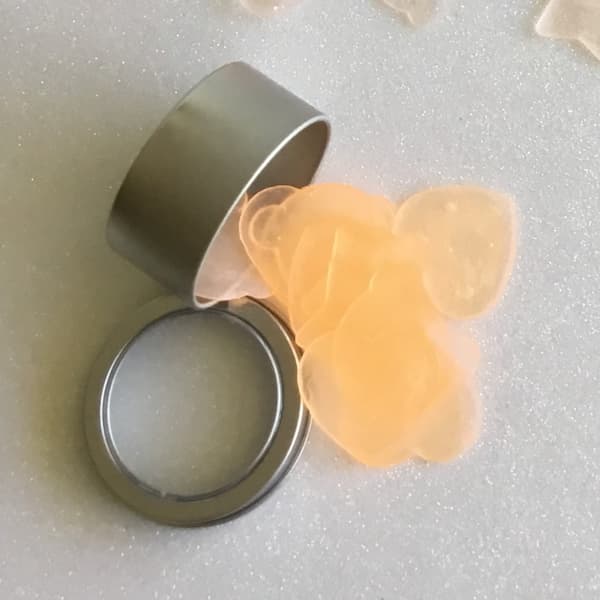 Enjoy!