Last Christmas I shared five different homemade gifts you could make with items from IKEA and that post was a huge hit.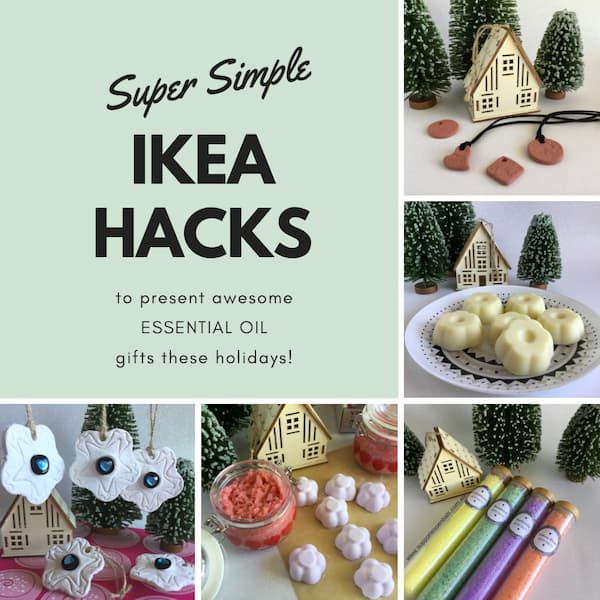 By far the most popular hack was the essential oil bath salts presented in beautiful RIMFORSA glass tube containers with bamboo lids, so I've decided to move it to its own blog post as so you don't have to dig through four other IKEA hacks to find it.
Let's Recap!
There's something so elegant about bath salts presented in long glass tubes. I've seen pictures on Pinterest but wondered where I would actually ever find suitable containers to get the perfect look.
Then one day I walked into IKEA and came face to face with these RIMFORSA tube-shaped glass containers.
I was in love.
The light bulbs started to appear above my head and I grabbed some ISTAD zip-lock bags and some LANKMOJ stickers and I think the resulting bath salts DIY gift is just beautiful.
This recipe requires a trip to IKEA, but it is well worth it! You can make up to four different scents of bath salts and present them in long glass tubes – so elegant!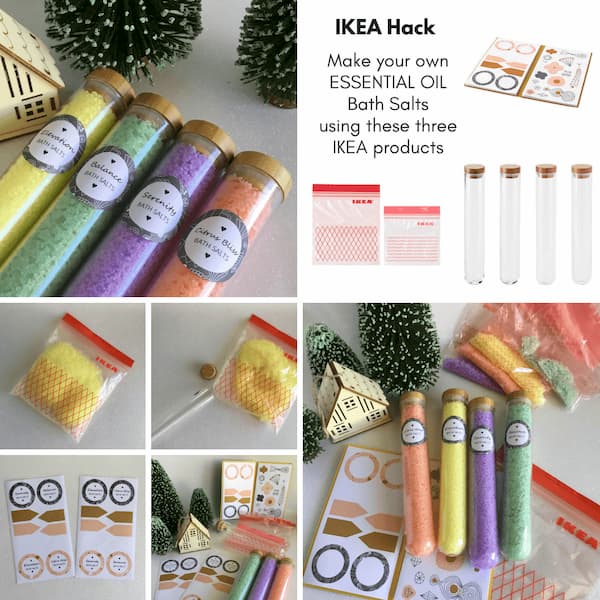 Gather Your Supplies
Materials from IKEA
RIMFORSA Container, tube-shaped glass (set of 4)
ISTAD Plastic bag, red zip lock
LANKMOJ Folder with stickers, white black, pink

Additional Materials
Below I've listed two lots of required materials for this bath salts IKEA hack. The first column shows the total amount of ingredients you will need to fill all four glass tubes.
If you want a different scent and colour for each of your four glass tubes then divide your total ingredients as per the list in the second column. You will need to make four lots to fill all four glass tubes.
Materials Required (In Total)
Material Required (for 1 glass tube)
2 Cups Epsom Salt
1 Cup Rock Salt
8 Tsp Baking (Bi-Carb) Soda
2 Tsp Carrier Oil
40-60 Drops of Essential Oils
Soap Colouring or Food Colouring
1/2 Cup Epsom Salts
1/4 Cup Rock Salt
2 Tsp Baking (Bi-Carb) Soda
1/2 Tsp Carrier Oil
10-15 Drops of Essential Oils
Soap Colouring or Food Colouring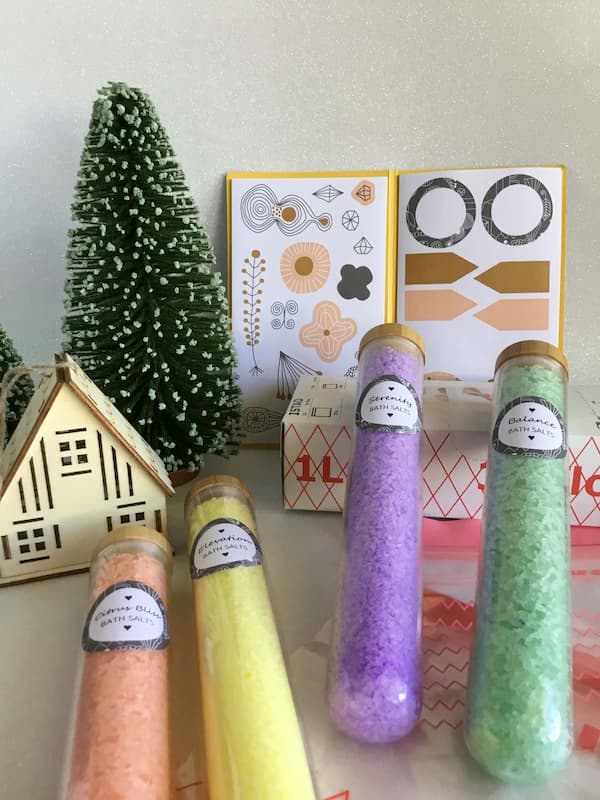 Method
Please note – this recipe makes enough bath salts to fill one glass tube only. You will need to make four batches to fill four tubes.
Add all the ingredients required for one glass tube into a 1L (34floz) ISTAD zip long bag (the larger of the two) and shake, shake, shake until everything is well combined. Then put the bag aside for 48hrs to let your bath salt mixture dry out (otherwise it will clump together in the container, making it difficult to get out).
In the meantime you can print up some labels using your home printer and the LANKMOJ stickers. Here is a Microsoft Word doc template I have created for you to use. Simply download the file, put a sheet of stickers in your home printer, and press print.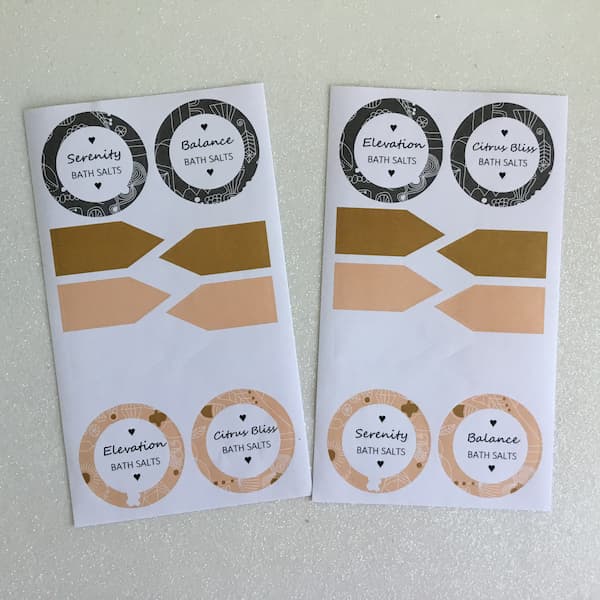 Please Note – I have purchased a number of packs of LANKMOJ labels in the past and have found that different packs are not necessarily cut the same (ie the labels are in slightly different position on the paper). The Microsoft Word document I have provided to you is fully editable so you can adjust the margins if required.
When your bath salts are dry, simply snip the corner off your zip lock bag with a pair of scissors and pour the salts into the glass tube. Put the lid on and give it a shake to let the salts settle, then add more if necessary (don't cram them in too hard, they won't come out).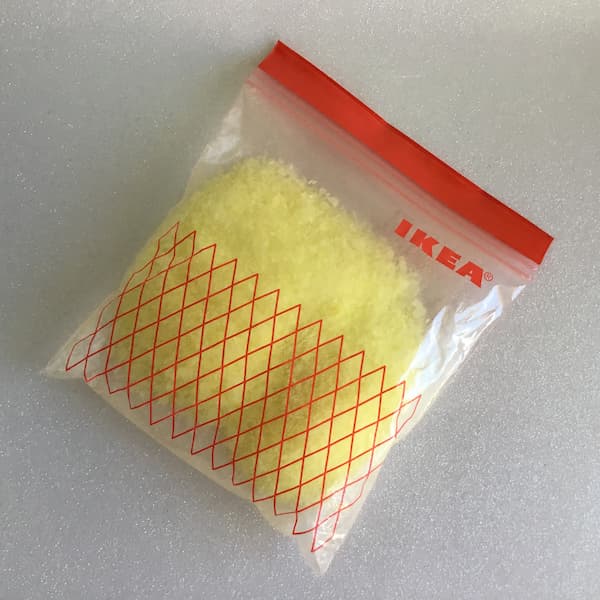 Store any excess salts in a 0.4L (14floz) ISTAD zip lock bag in case the salts in your tube settle further and require a top-up. Label your bath salts with the printed LANKMOJ stickers and your beautiful collection of bath salts is complete.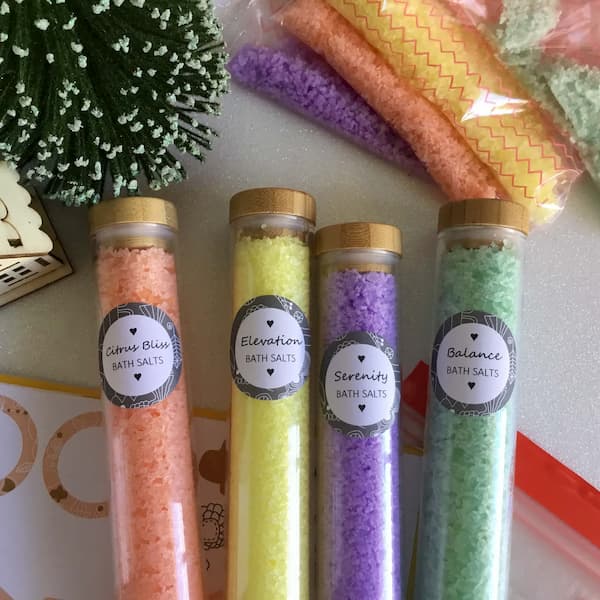 HINT: If you live in a humid area as I do, then your bath salts may stick together even if you have dried them thoroughly (the salt just soaks up the moisture from the air). I like to include a bamboo skewer with my bath salts to provide the giftee with an easy solution for dislodging them if necessary.
Enjoy!