Who loves IKEA?
I'm a bit of a fan. I especially love their homewares.
So today I'm sharing the IKEA products that I use alongside my essential oils – my IKEA essential oil 'hacks' if you will.
They are very simple and super affordable! Each of these IKEA hacks for essential oil lovers comes in at under $10. Gotta love that!
---
Essential Oil IKEA Hack #1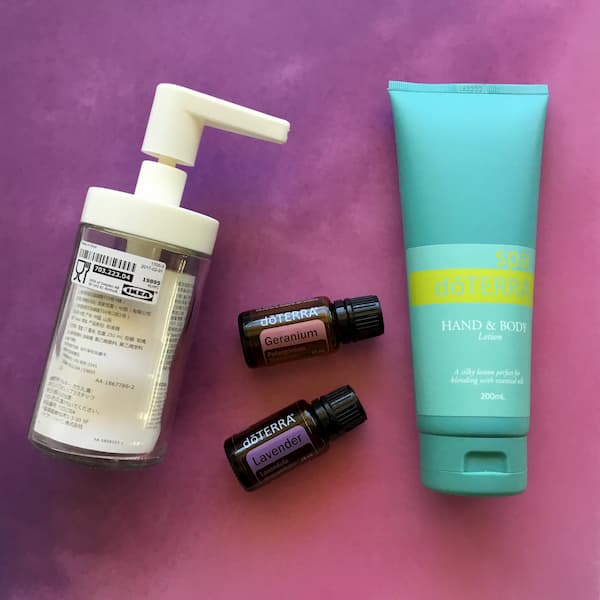 TACKAN Soap dispenser, white
$0.99 AUD | $1.49 USD | $0.79 CAD
ADD
– Your favourite un-scented moisturizer
– Your favourite essential oils for your skin

I love using my essential oils to personalize the scent of my moisturizer. There's only one problem – once you squeeze it out of the bottle to add the essential oils, there's absolutely no way to get it back in. Sometimes I'm even adventurous and I make my own moisturizer, but there is nothing worse than standing over a bowl of freshly-whipped facial cream and realizing you have nothing to store it in (d'oh!).
That is why I love IKEA's TACKAN soap dispensers. Filling them is a breeze due to their wide opening and they have a generous 250ml (8oz) volume. They're made of glass which gives you peace of mind when storing essential oil products, but are so affordable you won't feel guilty buying a few to keep around the house (or for different projects – think make-n-take party!).
HINT: Pop the glass part in the dishwasher for a good clean if you wish to change scents in between refills.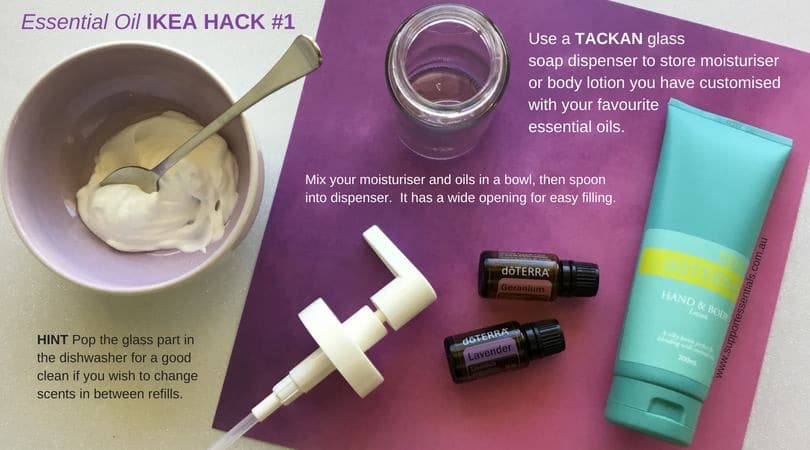 ---
Essential Oil IKEA Hack #2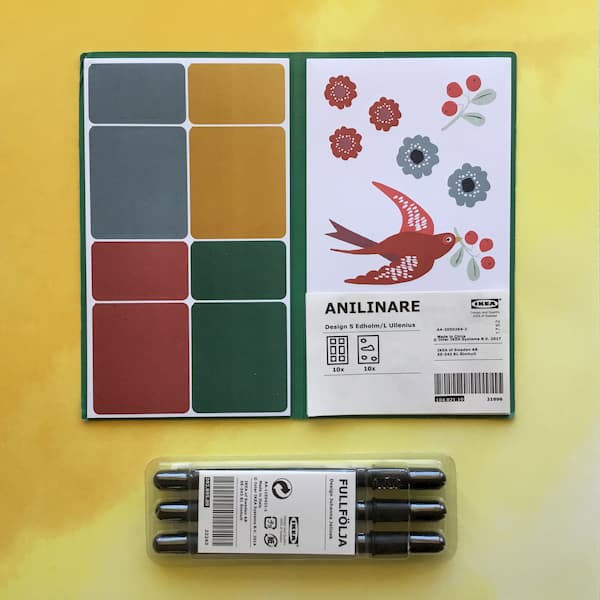 ANILINARE Folder with stickers
$4.99 AUD | $3.99 USD | $3.99 CAD
FULLFÖLJA Gel ink pen, black
$3.49 AUD | $2.49 USD | $2.99 CAD
ADD
– Assorted essential oil bottles
If you are a true essential oil enthusiast then no doubt you have quite a few roller bottle blends hanging around your home. Labeling them needs to be simple or else I just simply neglect to do it. Then I hate myself later when the bottle needs refilling and I can't for the life of me remember the blend recipe.
My challenge has always been finding labels the right size. Not any more. I have found these IKEA ANILINARE stickers and they are the perfect size. I've paired them with these FULLFÖLJA black gel-ink pens because I've found they write beautifully and there is not a single smudge in sight.
HINT: These stickers will not stick to dirty glass. If you have an oil spill or other grime on your bottle, clean it with some rubbing alcohol before you apply the sticker. Adding a strip of clear packing tape over the top will also make sure your sticker stays put and protect it from getting dirty.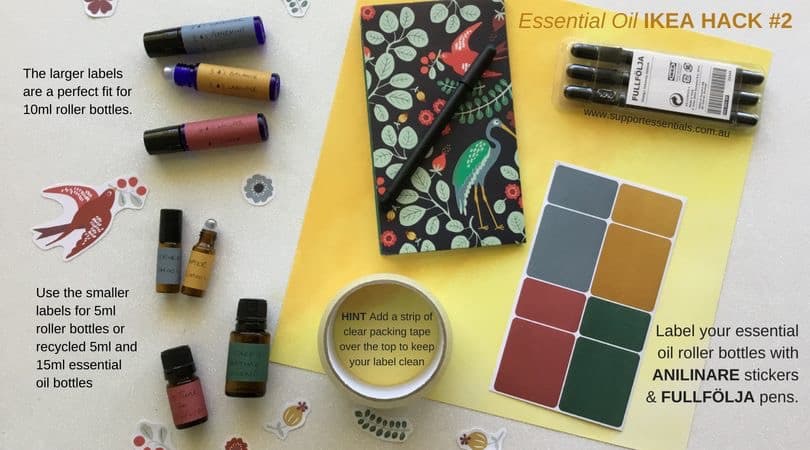 ---
Essential Oil IKEA Hack #3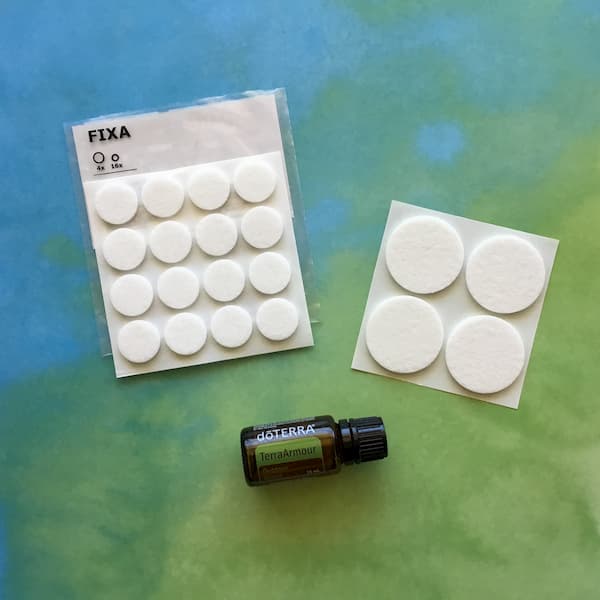 FIXA Stick-on floor protectors
$0.99 AUD | $1.99 USD | $1.99 CAD
ADD
– Your favourite essential oil insect repellent blend
Yes I am fully aware that these are supposed to be floor protectors for your furniture. BUT they are also perfect acting as DIY insect repellent patches. Just add a few drops of your favourite insect repelling essential oil blend, then stick them on to your clothing. Perfect for babies and kids (or basically anyone who dislikes spraying insect repellent on their skin). The smaller circles are perfect for hiding under shirt collars so they won't even be seen. Perfect!
HINT: How about adding your favourite 'focus' blend and sticking one under the collar of your child's school uniform. Do this daily and you won't risk any long-term staining of the material and, as it sits out of site, there is no need for your child to be self-conscious.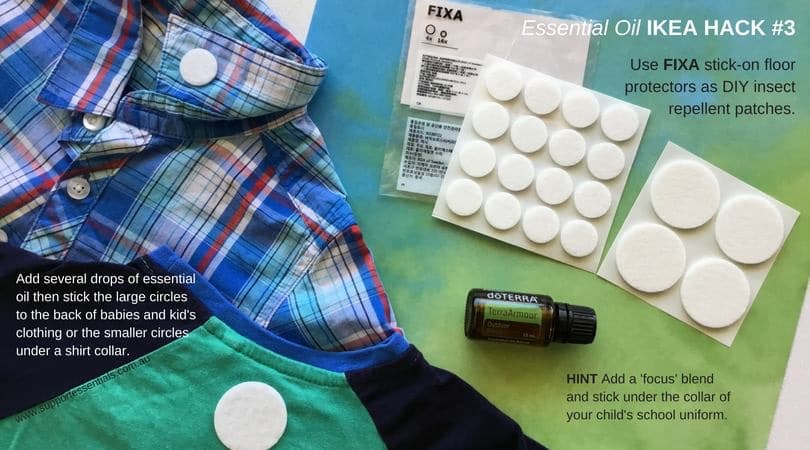 ---
Essential Oil IKEA Hack #4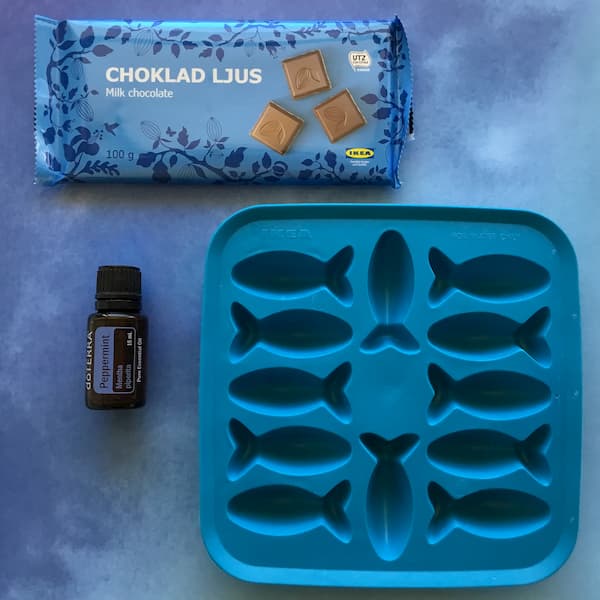 PLASTIS Ice cube tray, turquoise
$0.99 AUD |$1.99 USD | $1.99 CAD
CHOKLAD LJUS Milk chocolate
$1.40 AUD | N/A USD | $1.29 CAD
ADD
– Peppermint essential oil
I just adore IKEA chocolate. It is soy-free and is made from ethically-sourced cocoa. I also love jazzing it up with some extra flavouring using my essential oils. I melt it down in the microwave, add 3 drops of Peppermint essential oil and then spoon it into an IKEA PLASTIS novelty ice cube tray. Yummmm!
HINT: Use Wild Orange essential oil to create a delicious 'Jaffa' flavour.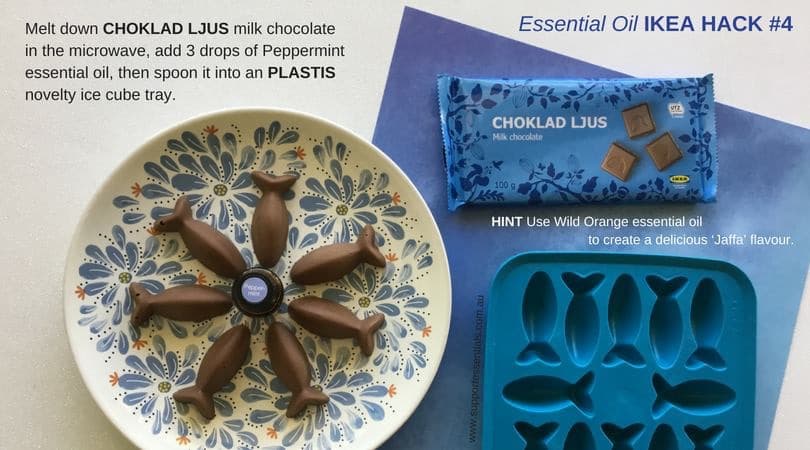 ---
Essential Oil IKEA Hack #5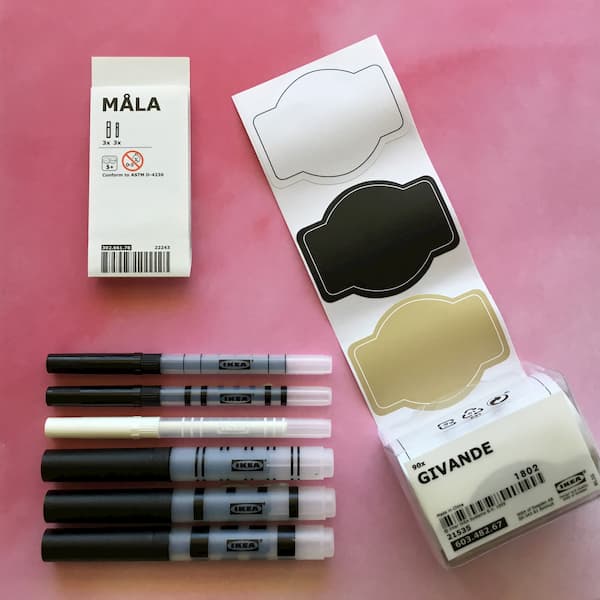 GIVANDE Stickers, black, natural, white
$2.99 AUD | $1.99 USD| $2.99 CAD
MÅLA Felt-tip pen, assorted sizes
$5.99 AUD | $4.99 USD | $5.99 CAD
ADD
– Glass spray bottles for home-made cleaners
Moving to a low-tox lifestyle means I have a lot of home-made cleaners in the house. Again, they need labeling. With 90 labels on a roll, these IKEA GIVANE labels are an affordable indulgence. Add some MÅLA black felt-tip pens in assorted sizes and you can get super creative with your labeling.
HINT: Use the white MÅLA felt-tip pen to write on the black GIVANDE stickers.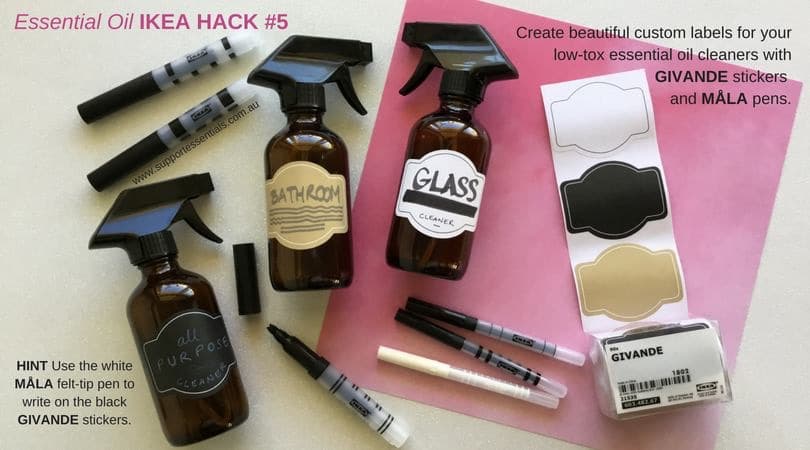 All prices correct at time of posting.
Do you have any IKEA essential oil hacks you'd love to share? Pop them in the comments section. I'd love to hear them!
Enjoy!