Take a look at these coloured Epsom salts.
I just love their beautiful crystalline colour that shimmers in the light. It's probably the best natural alternative to glitter you will find.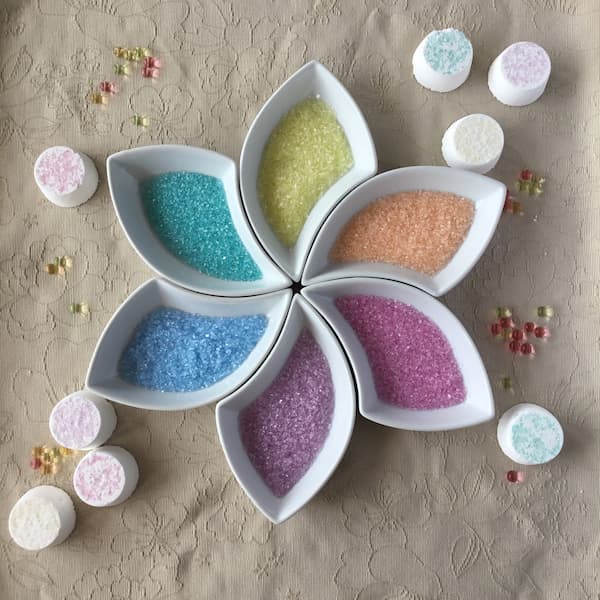 They're very simple to make really, dye some Epsom salts all the colours of the rainbow and keep them on hand for use in bath bombs, shower melts, sensory play and a whole host of other projects.
You can use food colouring or soap colouring. This is a very basic DIY project, but it is the cornerstone for many more creative endeavours.
---
This post contains affiliate links. If you buy something through one of those links, I will receive a small commission at no extra cost to you. As an Amazon Associate I earn from qualifying purchases.
Thank you for supporting my site!
---
They're pretty, but what do I do with coloured Epsom salts?
I use my coloured Epsom salts primarily to decorate the bath and body recipes I make.
Some recipes, like bath bombs and shower melts, are very moisture sensitive and can be ruined if you add too much liquid food colouring or soap dye.
By using coloured Epsom salts, I'm able to add an element of colour to my recipes without affecting the moisture content and running the risk of ruining my recipe.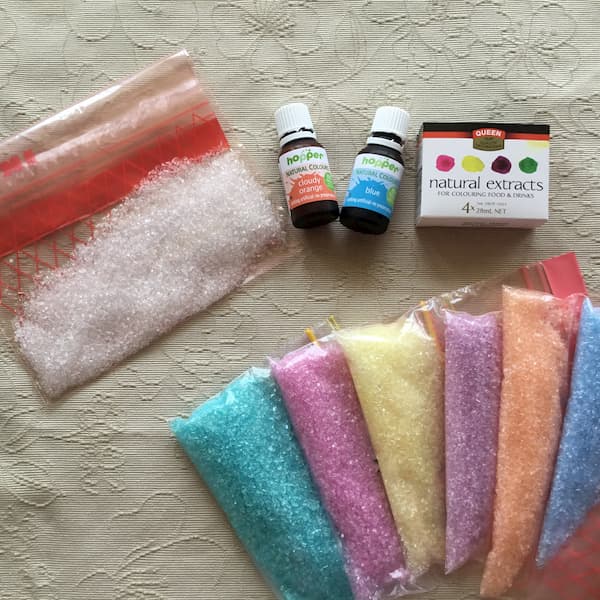 It's a super clever idea, especially if you are a beginner and not yet confident with your recipe-making.
Let's take a look at my recipes that use coloured Epsom salts.
---
Basic Shower Melts
These basic shower melts are perfect for essential oil DIY beginners and are sprinkled with coloured Epsom salts for decoration.
Shower melts are little cakes of bi-carbonate of soda, citric acid, corn starch and essential oils that fizz and melt as they get wet, diffusing the oils throughout your shower enclosure as they do so.
They are such a clever way to diffuse your favourite essential oils as you take a shower.
---
Bath Salt Gems
Take a look at this traditional bath salts recipe with a twist – it's Bath Salt Gems!
Take a basic bath salts recipe, add water, mould into shapes, and allow to dry – ridiculously simple! When they are completely dry they become rock hard.
I recommend using coloured Epsom salts as the base for this recipe to help you control its moisture content. It also helps create a more even and consistent colouring of your salt gems.
---
Easter Bath Salt Cakes
Here is a cute and colourful essential oil DIY and a perfect activity to keep the kids occupied over the Easter long weekend.
These Easter Bath Salt Cakes are similar to the bath salt gems listed above, but they are larger.
These ones have been made with Easter cookie cutters – so cute!
---
Fruit Cup Bath Bombs
I've used coloured Epsom salts to colour these Fruit Cup Bath Bombs I made for my son's kindergarten class.
I was able to make a massive batch of bath bomb mixture and colour each bath bomb individually with a tablespoon of coloured Epsom salts.
I was able to make bath bombs all the colours of the rainbow from one single batch thanks to my handy coloured Epsom salts – boy was that a time saver!
---
What ingredients do you need to make colored Epsom salts?
Epsom Salts
Epsom salts aren't just handy for decorating essential oil DIY recipes. Don't forget to check out the many uses and benefits they have for our well-being.
Coloring
Feel free to use whatever you have on hand to color your Epsom salts.
Soap coloring is preferable because the ingredients tend to be more stable and consistent across all colors.
However food coloring will also work perfectly well to color Epsom salts. I recommend using natural food coloring wherever and whenever you can.
Zip-Lock Bags
Zip-lock bags are the perfect tool for making your colored Epsom salts because you can also used them to store your colored salts once they are made.
You can use any size bag but I probably wouldn't go smaller than 1 quart in size.
Colored Epsom Salts Printable Recipe
Want your Colored Epsom Salts to look like mine?
I made six batches of colored Epsom salts using all the colors of the color wheel (red, blue, yellow, orange, green and purple). You can store your colored Epsom salts sealed in their zip-lock bags indefinitely.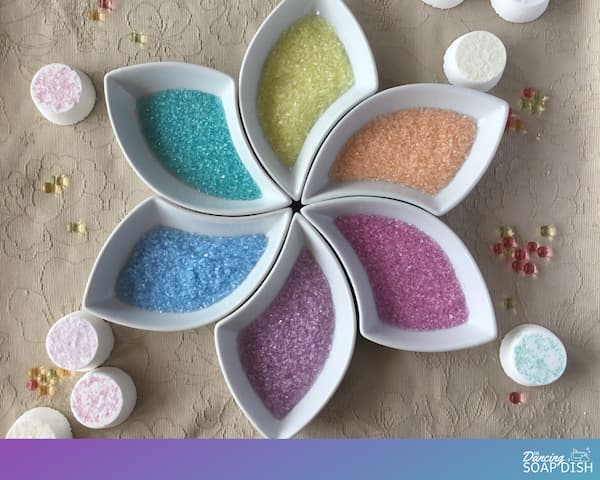 Colored Epsom Salts
Dye some Epsom salts all the colours of the rainbow and keep them on hand for use in bath bombs, shower melts, sensory play and a whole host of other projects.
Ingredients
1

Cup

Epsom Salt

Food Colouring

or Soap Colouring

Zip-Lock Bag
Instructions
Put Epsom salts in a zip-lock bag with a couple of drops of colouring, zip it shut and shake, shake, shake!

No need to squeeze the air out of the bag before you zip it shut, I find it works better with a lot of air inside for the salts to move around in.

Feel free to add more colour until you reach the desired hue.

Keep your Coloured Epsom Salts stored in the zip-lock bags until you need them.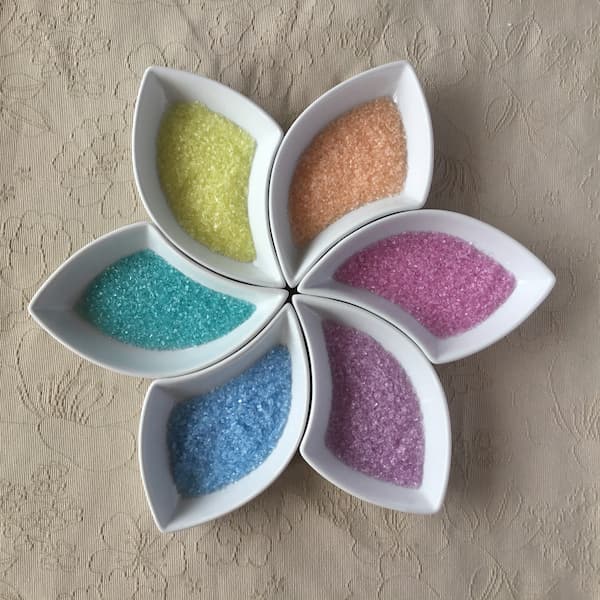 Enjoy!