Throw away those air freshener bottles people!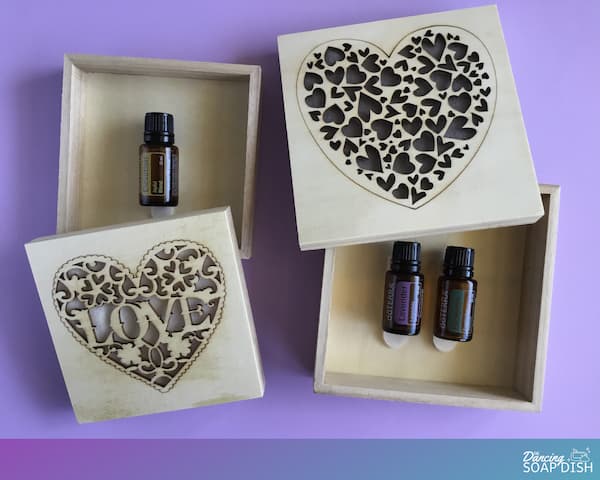 Because today I am going to show you a low-tox solution for keeping your toilet/powder room smelling clean and fresh by making your own essential oil diffuser from a few bits and bobs you can find at Bunnings.
The backstory…
It's amazing where you find inspiration sometimes. While recently wandering around my local hardware store, I came across these beautiful laser-cut craft boxes.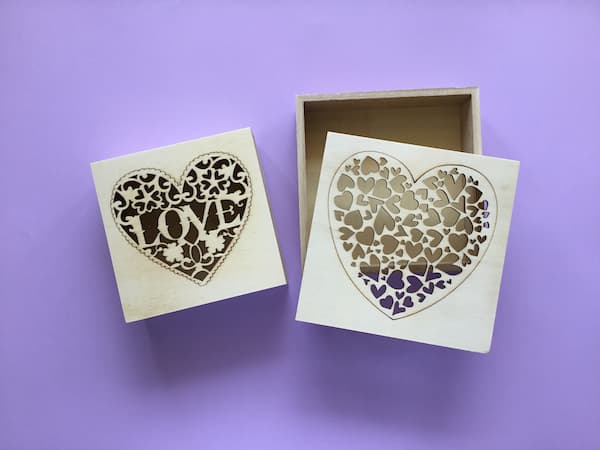 For a while I've been pondering how to diffuse my beautiful essential oils in the one room that needs it the most. You know the one I mean, the smallest room in the house, the powder room.
I know what you're thinking, why don't I just make myself a room spray and be done with it. But I'm really not comfortable with the idea of a glass bottle in a tiled room full of porcelain.
I have young children and I can see that spray bottle lost to misadventure in a very small period of time. Plus where do you put it? Windowsill? On top of the cistern? Install a shelf?
I just couldn't see it working.
How about a wall-mounted essential oil diffuser?
What I could see, however, were these gorgeous wooden boxes.
AND some pieces of felt.
AND some self-adhesive picture hanging strips.
Just add a basic adhesive and these items were all I needed to make my very own wall-mounted essential oil diffuser.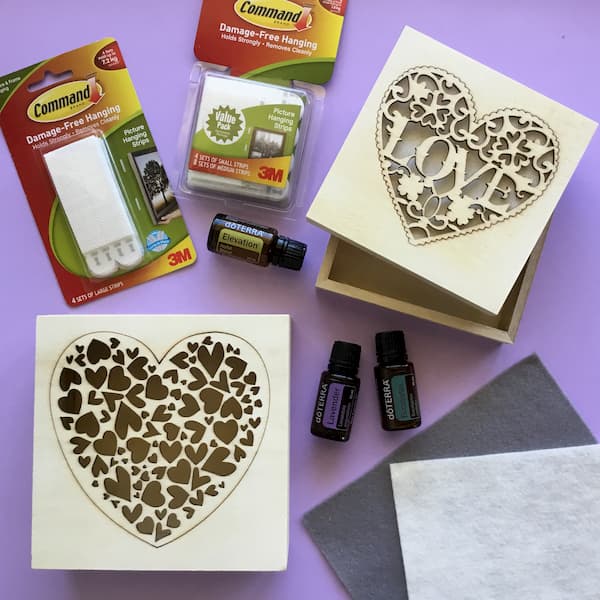 I've been testing it out for the past couple of months AND IT TOTALLY WORKS!!!
Recommended for SMALL SPACES only!
I want to emphasize that these kinds of diffusers are really only ideal for small spaces. Don't put one on your lounge room wall and expect it to diffuse a scent throughout the whole area. It just won't happen.
I recommend mounting your diffuser on a wall opposite or above a toilet, in a small study or reading nook, in a hallway, or any other small space where plugging in an electric diffuser is not possible or practical.
I used Lavender & Eucalyptus essential oils in the larger box and mounted it on the wall opposite my toilet (it has replaced the need for air fresheners in my powder room – mission accomplished!).
In the smaller box I added an uplifting essential oil blend and mounted it to the wall in the hallway, just outside my bedroom so I can smell it as I come and go.
I was pleasantly surprised by how well the scent diffused and very happy that four drops of each oil approx every 48hours is enough to sustain the scent. Those bottles of essential oils are going to last months!
Let's get started.
What you need
Method
Cut your felt to the size of the inside of the box lid and secure it around the laser-cut hearts with your adhesive.
Add large picture hanging strips to the inside bases of your boxes (these strips will hold your essential oil bottles).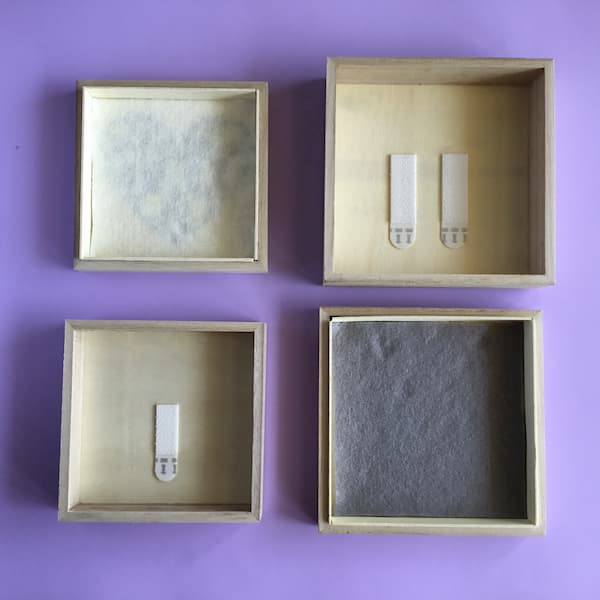 Also add picture hanging strips to the back of each box to adhere it to a wall. Remember to take into account the weight of your essential oil bottles when you are calculating which and how many strips to use.
I recommend using multiple large strips to do this. If you have smaller strips, use more of them.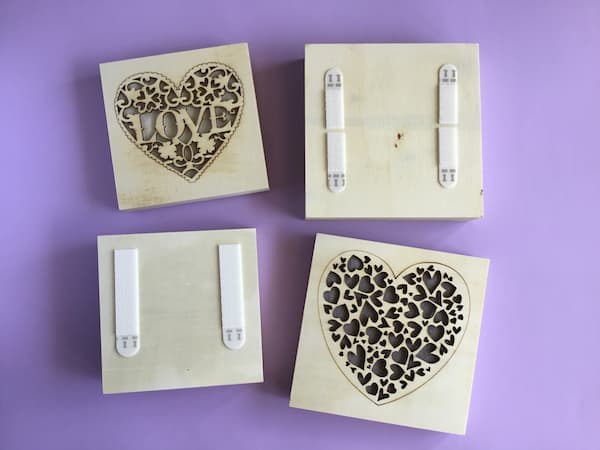 Now add picture hanging strips to the back of your essential oil bottles. The smaller strips are the best size for this, but if you only have large strips you can cut them down to size with a pair of scissors.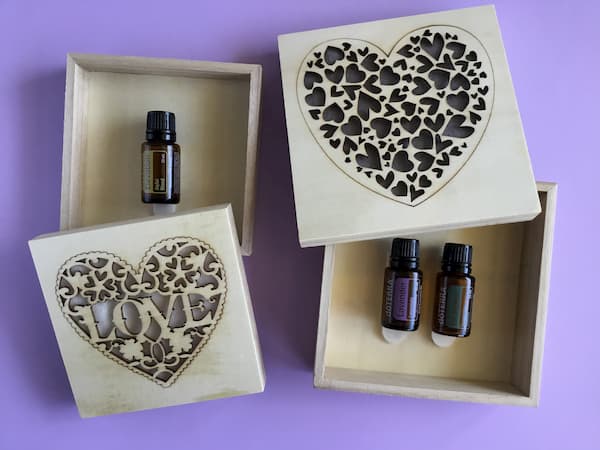 Stick your essential oil bottles to the inside base of your box and mount your box to a wall (listen for the tell-tale 'click' sound that will tell you your picture hanging strips are stuck together correctly).
Directions for Use
Take the cover off your box and remove the essential oil bottle from the box also. Add several drops of essential oil to the felt on the inside of the box cover. Replace your essential oil bottle and put the cover back on the box.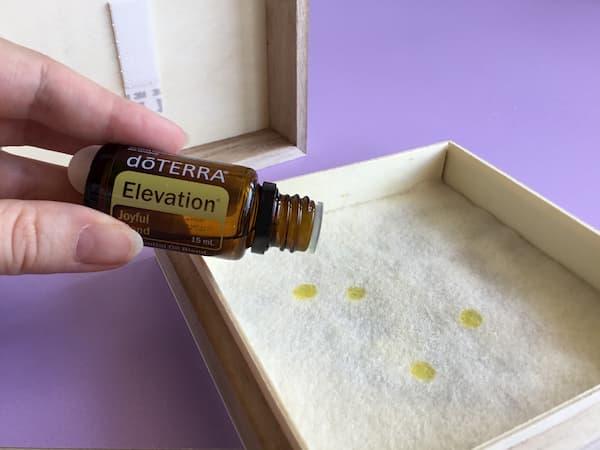 Love it? Share it!
I just know that now you have read how easy these diffusers are to make and how they are a great low-tox way to deodorize the smallest room in your house (you know the one!), that you are going to want to share it with your team of friends, family and customers. So here's a super informative info graphic to help you out: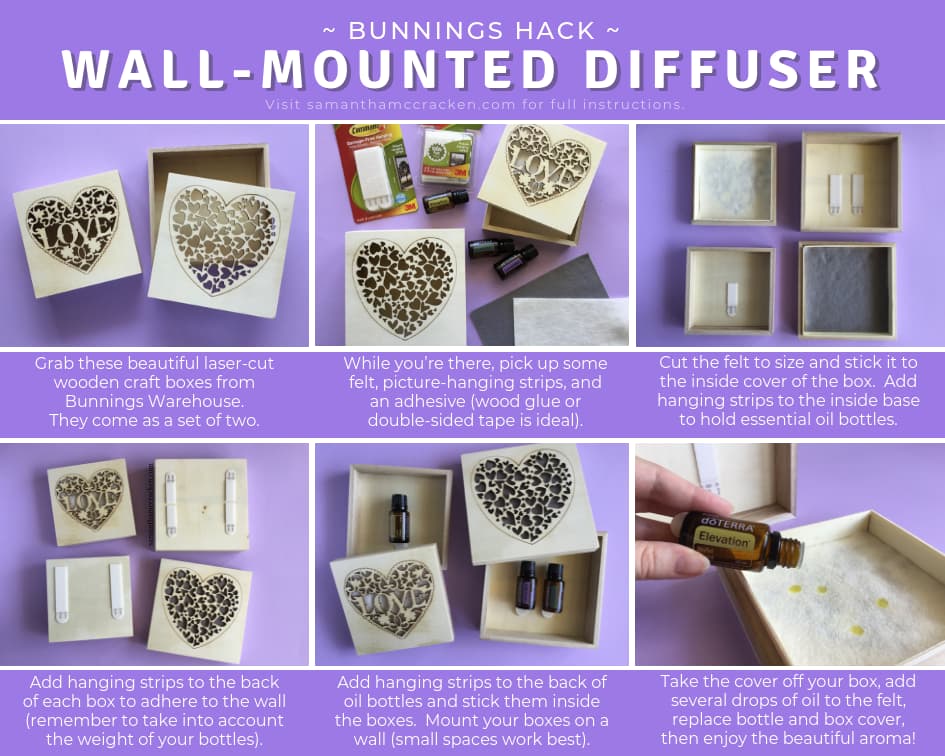 Feel free to copy and paste it to Facebook or pin it to Pinterest.
Enjoy!