Valentine's Day is coming and I always like to mark the occasion with a cute little heart-themed recipe or craft.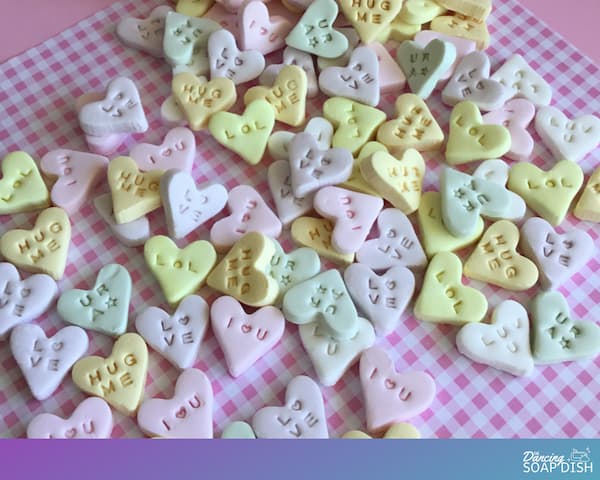 So today we are talking all about Conversation Hearts. No big deal really, you might be thinking, as they are a traditional Valentine's Day candy. Only this time, I'm going to show you how to flavour them with your essential oils.
---
Looking for a fun Valentine's Day essential oil project? Last year I made these Essential Oil Flavoured Valentine's Chocolates and they were super yum!
---
This post contains affiliate links. If you buy something through one of those links, I will receive a small commission at no extra cost to you. As an Amazon Associate I earn from qualifying purchases.
Thank you for supporting my site!
---
I recently stumbled across these goodies and they were the perfect size to make the heart-shaped Valentine's candy I used to eat as a child.
Traditionally the writing on Conversation Hearts is done in red ink, but where I'm from the writing was always embossed on the candy. Anyone remember those? I think you can still find them here and there today.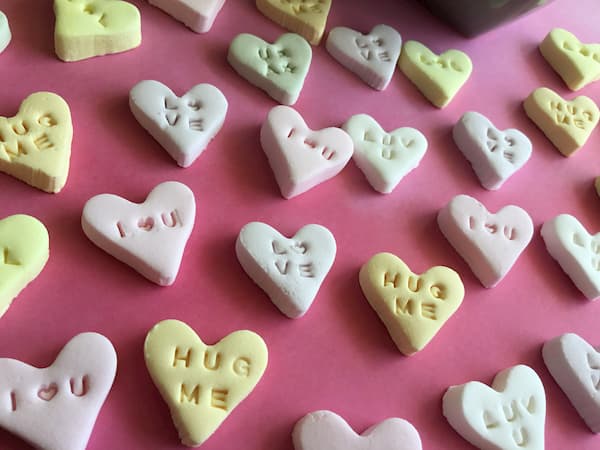 Anyway, I was pleasantly surprised by how easy this recipe is to make! Each heart is made up of only five ingredients (water, gelatin, sugar, colour and flavour) and, with the right cutting and stamping tools, making them is an absolute breeze and So. Much. Fun!
Which Essential Oils Should I Use?
First and foremost, your essential oils MUST say they are suitable for flavouring use. If the bottle does not state this then it is a no-go my friend. If flavouring with essential oils is not your thing then check the baking aisle of your local supermarket for flavouring alternatives.
I used the following essential oils to flavour my candy and I only needed one drop of each for a clean, fresh flavour: Tangerine, Bergamot, Spearmint, Grapefruit, Lavender, and Lemon Essential Oils.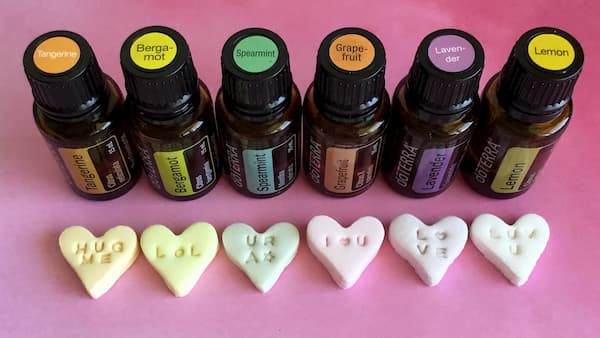 Other essential oils that would also be ideal for flavouring include: Wild Orange, Peppermint, Star Anise, Litsea (May Chang), Lime, Lemongrass, Melissa (Lemon Balm), Ginger, Roman Chamomile, Lemon Myrtle, Frankincense, Copaiba, Cinnamon, Clove or Cassia (to name a few).
What Should I Write on my Candy?
Traditionally the writing on conversation hearts is short and sweet (haha). Here are the words and phrases I used on my hearts: I ♥ U, LOL, LUV U, URA*(you are a star), L♥VE (over two lines), and HUG ME (with the 'HUG' and the 'ME' stamped separately so to centre them).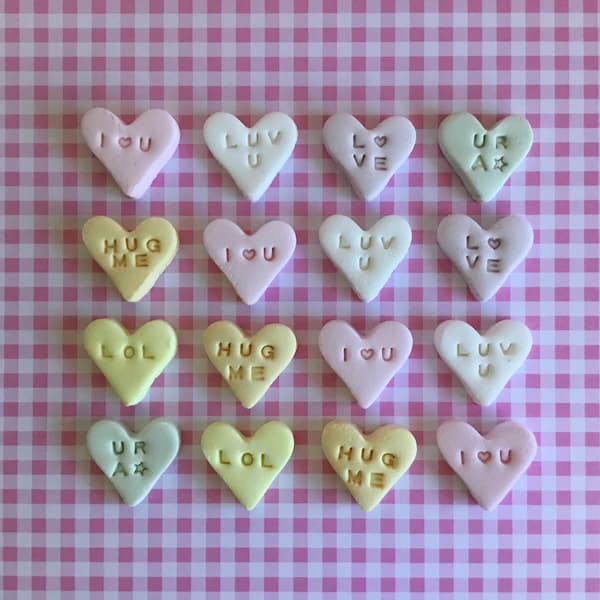 Try these, and if you come up with some other great ideas, drop them in the comments below.
Let's get started!
What you need
¼ Cup Water
1tsp gelatin
600g | 1lb 6oz Confectioner's Sugar (aka Powdered Sugar or Pure Icing Sugar) + extra for dusting
6 Different Colours of Liquid Food Colouring
6 Different Essential Oils (your oils MUST be suitable for flavouring use – check the bottle)
Non-stick Baking Paper or Wax Paper
A Rolling Pin
A Mini Heart Cookie Cutter* (approx 2.5cm | 1" wide)
Also useful
Cling Film/Wrap
A Kitchen Scale
A Tray Lined with Baking/Parchment Paper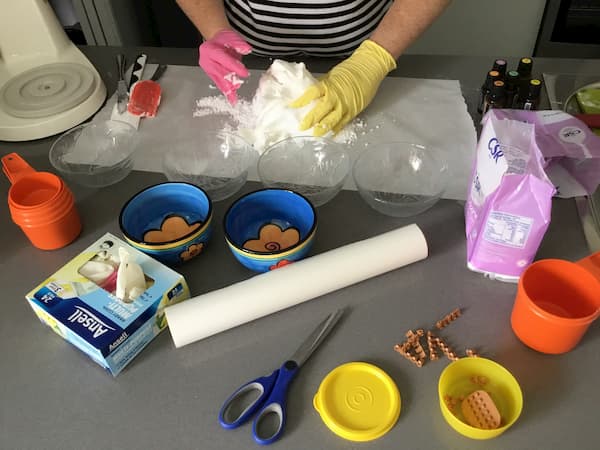 Method
Make Some Sugar Dough
Pour ¼ Cup of water into a small bowl or drinking glass. Sprinkle the gelatin over the top of the water and allow to sit for 5 minutes.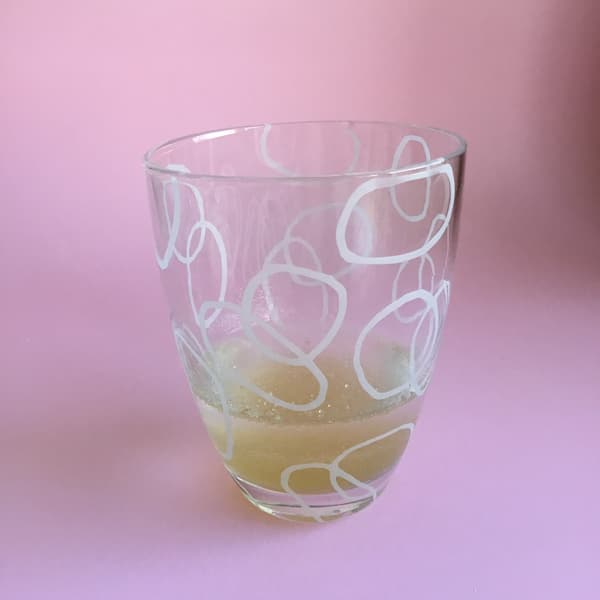 Place half of the sugar in the bowl of an electric mixer while you wait.
After 5 minutes, heat your gelatin mixture in the microwave in short bursts (10-15seconds) until the gelatin has dissolved. Stir if necessary.
Turn your mixture on at the lowest setting (you don't want sugar flying everywhere) and as it is mixing pour ¾ of your gelatin mixture (approx 3tbsp, or you could just eye-ball it like I did) into the bowl of sugar.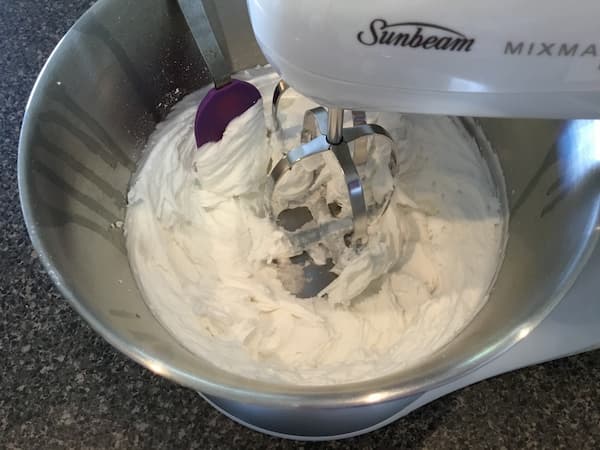 Mix until all the lumps are gone and you have a smooth paste (you can turn the speed of your mixer up a few notches if you need to).
With the mixer still mixing, slowly add the remaining sugar until a thick paste forms and starts pulling away from the beaters.
Add any remaining sugar to a piece of non-stick baking paper and then scoop out your sugar paste from your mixing bowl on top.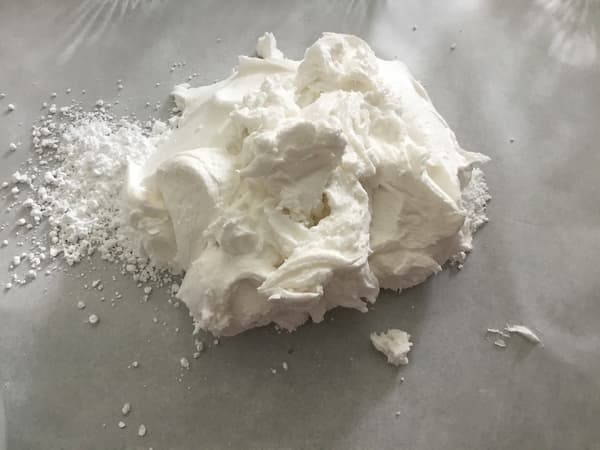 Mix the remaining sugar in by hand. If your mixture is too dry add a tiny bit more of your gelatin mix. If your mixture is too sticky, add more sugar.
At this point, I like to wrap my dough in cling film and put it in the fridge for an hour. I only do this because where I live it is very hot and I find cold dough much less sticky and easier to work with. If you are happy that your dough is not too sticky at this point then continue on.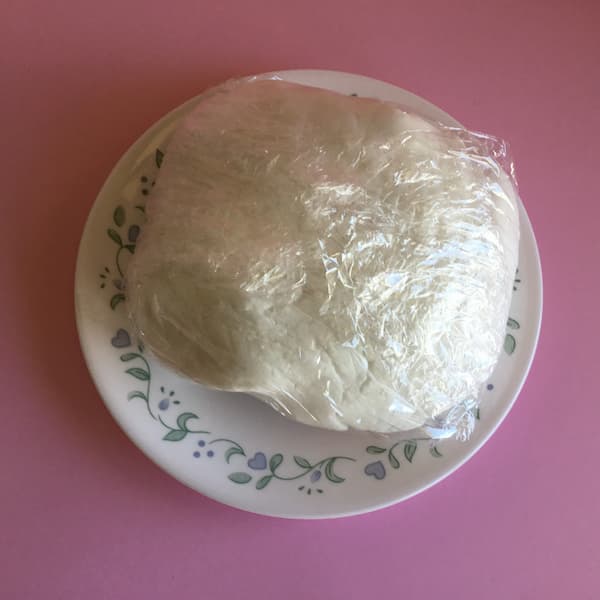 Colour and Flavour Your Sugar Dough
Weigh out your dough into six equal parts (approx 100g | 4oz each).
Add one drop of essential oil (you may want to drop the oil onto a spoon first to avoid over-flavouring your dough if too many drops accidently come out) and add a few drops of food colouring.
Kneed your dough thoroughly to disperse the flavour and colour.
Taste your dough and add more colour or flavour if desired. If your dough becomes sticky from the moisture of the colour and essential oil then add a little more sugar.
Repeat for each different colour and flavour. I also suggest wrapping and refrigerating any dough you are not currently working with.
Roll, Cut & Stamp!
Set your stamp up with the word or phrase you wish to stamp on your candy and have your cookie cutter ready.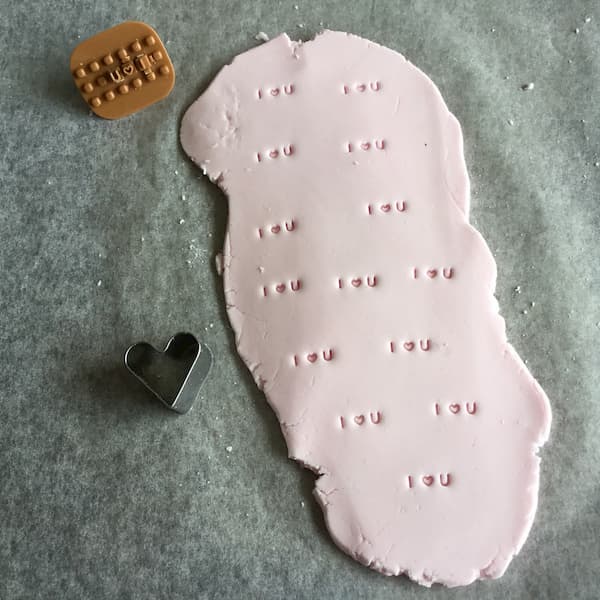 Place your coloured and flavoured dough on a fresh piece of non-stick baking paper or wax paper and roll it out to about 1/2cm | 3/16" thick. Dust your rolling pin with sugar if the dough is sticking to it (but I find if you refrigerate your dough and work fast this is not necessary).
Take your word stamp and emboss your dough (taking care to leave enough room between your stamped words for the size of your cookie cutter).
Now centre your cookie cutter over the stamped word and cut out the heart shapes. If your candy sticks to the inside of your cutter, simply hold the cutter a short distance above your working surface and gently tap the top until the candy falls out. If your candy sticks to the paper, then continue cutting all of your candies and then peel back the paper from the base of the dough and your hearts should pop out (this is where a good non-stick paper will save you time and heartache).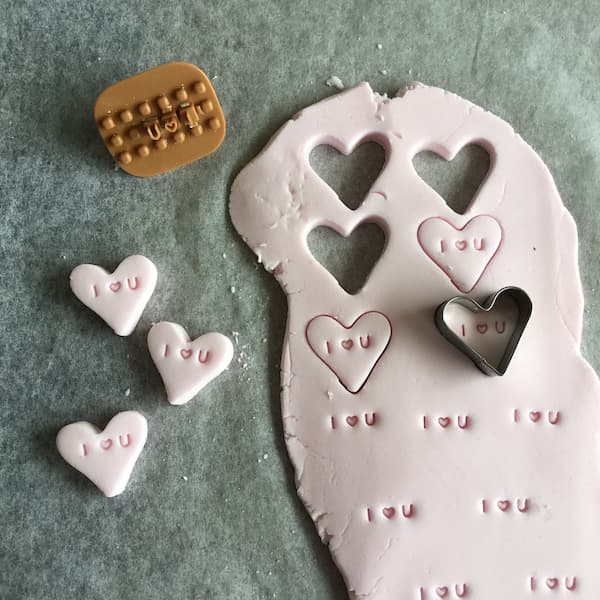 Gently transfer your completed candies to a plate or paper-lined tray.
Roll the remaining dough into a ball and kneed briefly before rolling out again. Repeat until almost all the dough is gone (I give you permission to eat the last little bit). Each colour should yield at least 20 candies.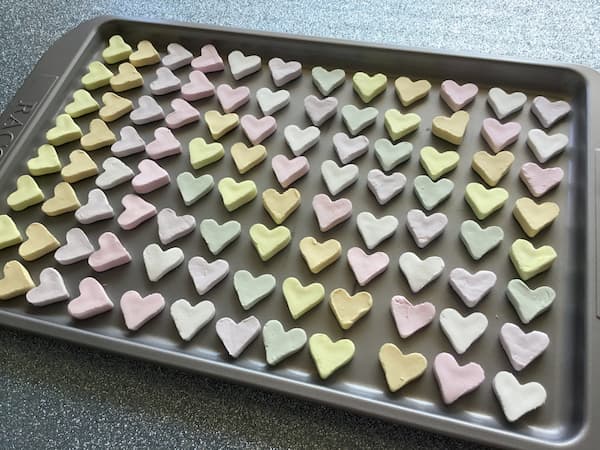 Repeat for all colours and flavours until you have a full tray of candies. Leave them out overnight to harden, then flip them over and leave them out for another night. It should take no more than 48 hours for them to fully harden.
Once they have hardened you can serve them at a party or put them in cellophane bags to give to friends (or a secret Valentine) as gifts.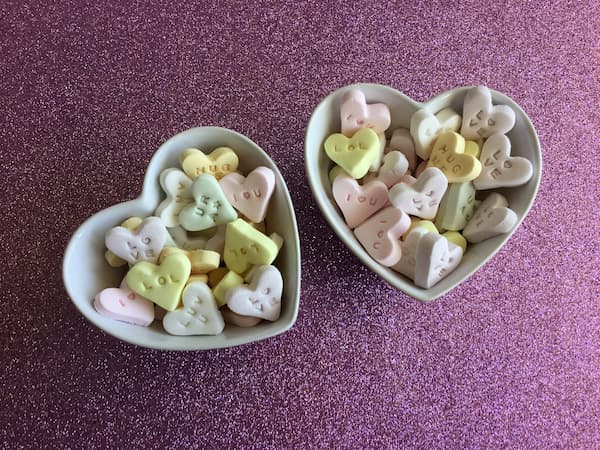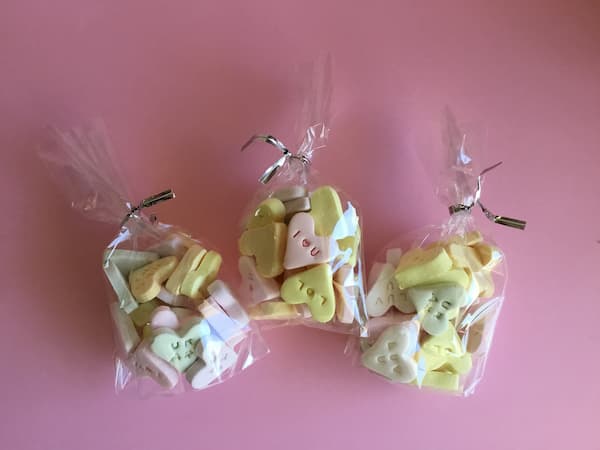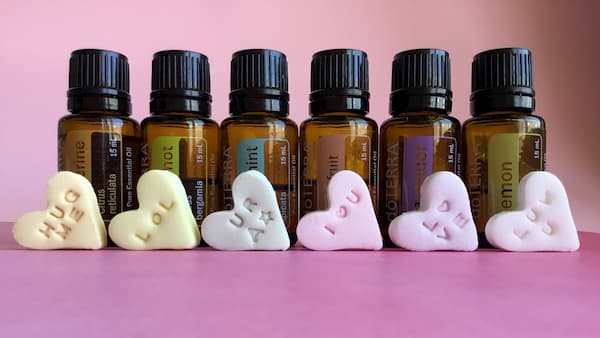 Enjoy!