Easter Epsom salt cakes are a cute and colourful essential oil DIY and a perfect activity to keep the kids occupied over the Easter long weekend.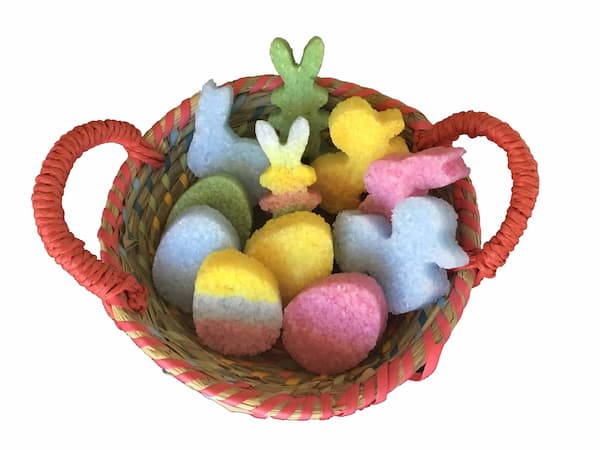 They are also a great gift idea for friends and family for whom the traditional Easter gift of chocolate may not be ideal.
Epsom salt cakes are essentially bath salts – just presented in a different way.
A bit boring you think? Well check out these cute Easter-themed Epsom salt cakes.
I just love them! They are such a great way to share your favourite essential oils.
---
This post contains affiliate links. If you buy something through one of those links, I will receive a small commission at no extra cost to you. As an Amazon Associate I earn from qualifying purchases.
Thank you for supporting my site!
---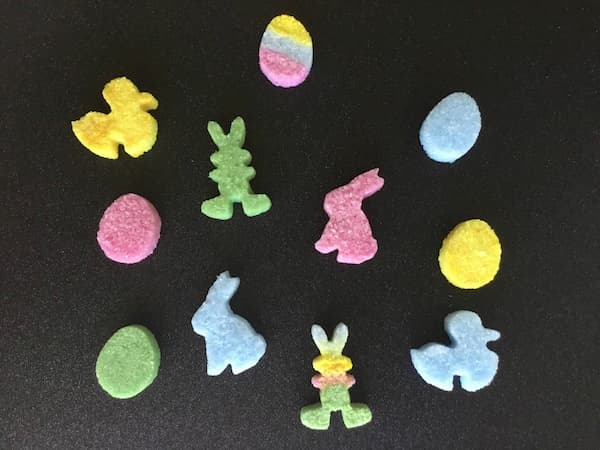 Gather Your Supplies
Epsom Salts
Epsom salts lie at the heart of every good bath salts recipe due to the many uses and benefits they have for our well-being.
If you have the time, I recommend using Coloured Epsom Salts as the base for this recipe. These are Epsom salts that have been pre-coloured and allowed to dry which definitely helps you control the moisture content of this recipe. It also helps create a more even and consistent colouring of your salt gems.
If you don't have time to pre-colour your Epsom salts, see the section on 'Colouring' below.
Baking Soda
Baking soda (or bi-carb soda) is the glue that's gonna hold these cute little cakes together. When testing this recipe I made it both with and without the baking soda and twelve months later those gems without baking soda have crumbled back into salt while the ones with baking soda are still holding together perfectly.
If your baking soda is lumpy, sift it as you add it to your mixture.
Carrier Oil
As this recipe uses essential oils, I have included a carrier oil for dilution purposes. Essential oils should always be diluted, especially in the bath (where they have access to all sorts of nooks and crannies they might not ordinarily have).
Common carrier oils include fractionated coconut oil, jojoba oil, sweet almond oil (beware of nut allergies if you are giving these bath salt cakes as a gift), grapeseed oil, avocado oil, and the list goes on.
Essential Oils
This recipe calls for 20-30 drops of essential oil. That's probably considered a little high compared to the amount of carrier oil used. The reason for this is that you will lose a fair amount of essential oil to evaporation when your bath salt cakes are left to dry.
Which essential oils should you use? Well I normally leave that up to you because everyone has their own favourite essential oil blends.
If you're looking for suggestions then my tip is to find a diffuser blend you like and then scale up the number of drops of essential oils to fit this recipe.
You can find hundreds of diffuser blends for inspiration here and Easter-themed diffuser blends here.
Water
To increase the storage longevity of your essential oil project, do not use water from the tap in the recipe. This can lead to mould growth. Instead I recommend distilled, demineralized, or water that has been boiled and then cooled. Alternatively rose water (also available from the supermarket) is a great idea (and will add to the beautiful scent of your bath salt cakes).
Colouring
Soap colouring is preferable when colouring your Epsom salt because it provides a stable and consistent colouring across all colours and will not fade.
However food colouring will also work perfectly well to colour your rock salts. Just don't leave them sitting out in the open for long periods (I'm talking months) as the colour will fade (and so will the scent for that matter).
I recommend using natural food colouring wherever and whenever you can.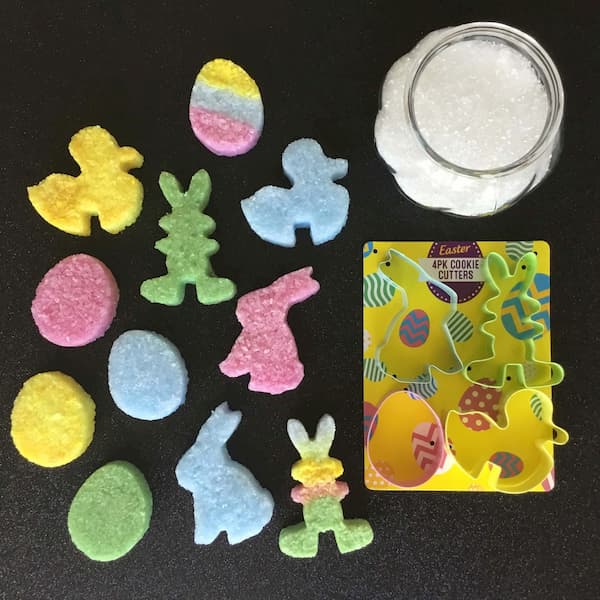 Cookie Cutters
For best results, use a selection of Easter-themed cookie cutters for this project. These ones are a perfect example.
When choosing cookie cutters, pick shallow cutters (1/2″ – 3/4″ in height) over deep ones (1″+ in height). It can be a little tricky to lift your cutter up and away from your salt cake if the height of the cutter is an inch or taller.
Mixing Bowl & Spoon
You will require a mixing bowl and spoon to make this recipe. To be on the safe side, I recommend you use a non-plastic bowl and spoon for this activity as essential oils can quickly corrode some plastics. A glass, ceramic or stainless steel bowl and a metal spoon is the way to go.
Grease-Proof Paper Lined Tray
These Epsom salt cakes need to stand for 48 hours to dry. You cannot touch them during this time as they are fragile when wet. Also some of the water and oil may leak out during the drying process. A baking tray or serving tray is the perfect solution as you can then pick them up and move them to a safe place to dry. The grease-proof paper allows for easy clean-up once your project is finished.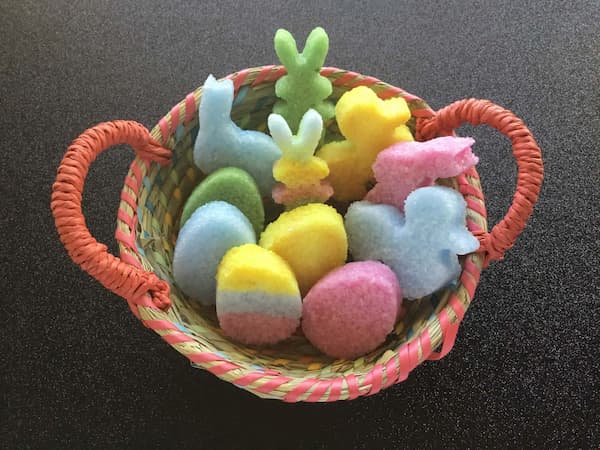 Want your Easter Epsom Salt Cakes to look like mine?
I halved the recipe and then made up four batches of four different colours and scents. I made all the salt cakes pictured here in one go. I just wiped my cookie cutters clean with a paper towel in between colours. Feel free to mix your colours and see what you can come up with.
Easter Epsom Salt Cakes Printable Recipe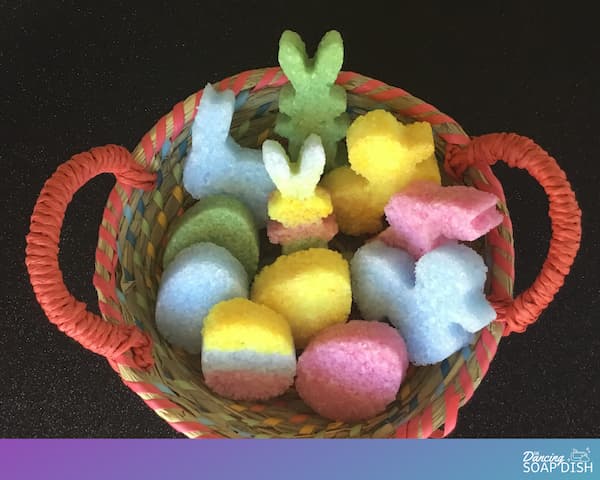 Easter Epsom Salt Cakes
Here's a cute and colourful Easter craft to keep the kids occupied over the Easter Long Weekend.
Equipment
Glass, Ceramic or Metal Mixing Bowl and Spoon

Tray lined with Grease-Proof Paper
Ingredients
1

Cup

Epsom Salt

2

Tbsp

Baking (Bi-Carb) Soda

Sifted

2

Tsp

Carrier Oil

20-30

Drops

Essential Oil

1-2

Tsp

Water

Only add second tsp if necessary

1-4

Drops

Liquid Food Colouring

If not using colored Epsom salts

Easter-themed cookie cutters
Instructions
Add Epsom salts and sifted baking soda into a non-plastic bowl and mix well. Add carrier oil, essential oils, water, colouring (if using) and then stir until fully incorporated.  Your mixture should be damp but not so soggy that the salt starts to dissolve.

Place your cookie cutter in the top left-hand corner of your paper-lined tray. Spoon your salt mixture into your cookie cutter and use your fingers to push it down firmly. Keep filling your cookie cutter until you can pack it down level with the rim of the cookie cutter.

Slowly and carefully lift the cookie cutter to reveal a formed salt cake.  If you shape starts to sag or melt it means your mixture is too moist. You can add more Epsom salt to the mixture to counteract this.

Repeat steps 1-3 until all of your Epsom salt mixture is gone.

Set your salt cakes aside to dry overnight, then flip them over to dry for another 12-24 hours.
Directions for Use
To use, drop 2 cakes into a bath for kids (use all cakes for an adult) or 3-4 in a bucket for a relaxing foot soak.  To give as a gift, place salt cakes in a cellophane bag and tie off with a pretty ribbon.
Notes
Store your bath salt cakes in a plastic zip-lock bag for color and scent longevity.
Troubleshooting Tips:  If your salt cake does not remove easily from your mold, your salt mixture is too dry. Add some more water and try again.
If your salt cake starts to sag or lose its shape after being removed from the mold, your salt mixture is too wet. Add some more salt and try again.
How to Use Easter Epsom Salt Cakes
Directions for Use
Your recipe will yield 5-6 bath salt cakes depending on the size of your cookie cutters. To give as a gift, place salt cakes in a cellophane bag and tie off with a pretty ribbon.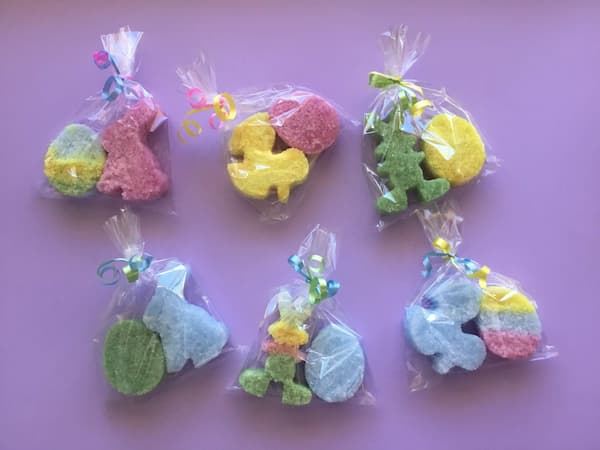 Drop all of your bath salt cakes into a warm bath. Once dissolved soak in your bath for half an hour or so. For children use 2 cakes for 15-20min. Use 3-4 cakes in a bucket of water for a foot soak.
Easter Epsom Salt Cakes Troubleshooting Tips
If your salt cake does not remove easily from your mould, your salt mixture is too dry. Add some more water and try again.
If your salt cake starts to sag or lose its shape after being removed from the mould, your salt mixture is too wet. Add some more salt and try again.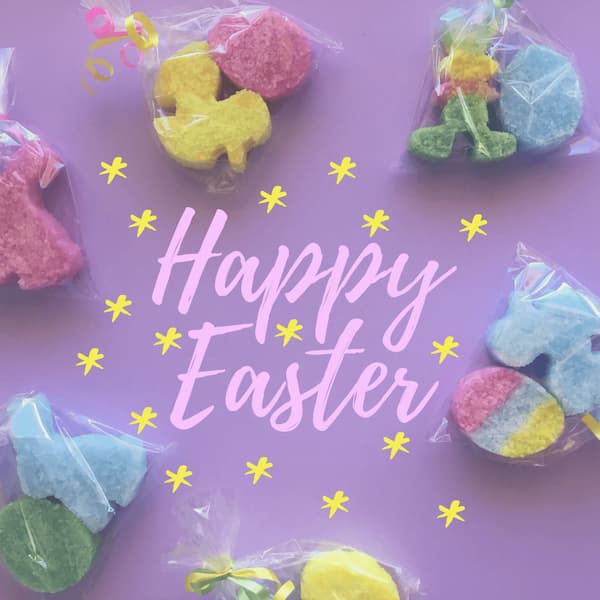 Enjoy!