Mother's Day is only a couple of weeks away so now is the perfect time to drop some serious hints to Hubby and the kids about some gifts we essential oil-loving-Mummas would love to unwrap come the second Sunday in May.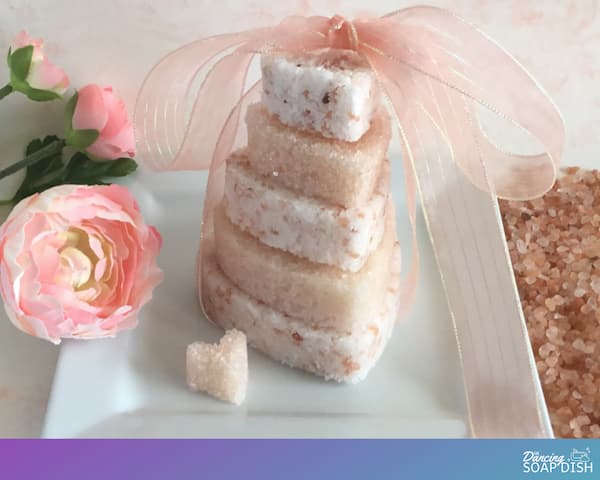 So Dad, kids – this recipe is for you.
---
This post contains affiliate links. If you buy something through one of those links, I will receive a small commission at no extra cost to you. As an Amazon Associate I earn from qualifying purchases.
Thank you for supporting my site!
---
Mums cherish home-made gifts and these rose-scented bath salt cakes are perfect because they are easy-peasy and just so pretty (and Dads, you can find the ingredients at the supermarket). But what I love most about them is they are extremely versatile!
So kids, don't forget to explain to mum that not only did you make these Rosie Pink Himalayan Salt Cakes, but also that she can use them to
soak and relax in a hot bath,
add them to a foot spa for a luxurious foot soak,
or even use as an exfoliating salt scrub!
Amazing right?
What you need
Makes approx 3 salt cakes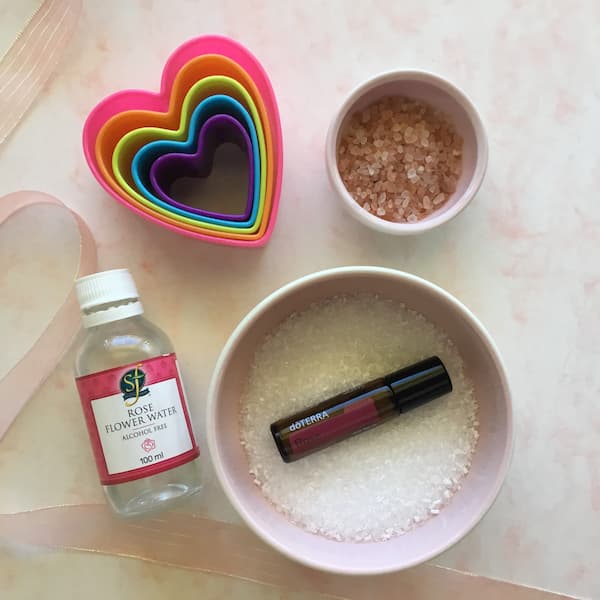 Method
Add salts and sifted bi-carb to a non-plastic bowl and mix well. Add wet ingredients and stir until fully incorporated. Your mixture should be damp but not so soggy that the salt starts to dissolve.
Place a cookie cutter on your paper-lined tray and fill it with the salt mixture. Pack it down level with the rim of the cookie cutter, then slowly and carefully lift the cookie cutter to reveal a formed salt cake. If you shape starts to sag or melt it means your mixture is too moist. You can add more salt to the mixture to counteract this. Continue until you run out of salt mixture.
Set your salt cakes aside to dry overnight, then flip them over to dry for another 12 hours. Store them in a plastic zip-lock bag for scent longevity. To give as a gift, place two salt cakes in a cellophane bag and tie off with a pretty ribbon.
To use, drop two into a bath or one in a bucket or foot spa for a relaxing foot soak. In the shower, add a few drops of carrier oil or body wash to the surface of the salt cake and then rub it over your skin to exfoliate.
And there you go, a beautiful gift for your beautiful Mum (don't forget to give her a kiss and a cuddle too xx).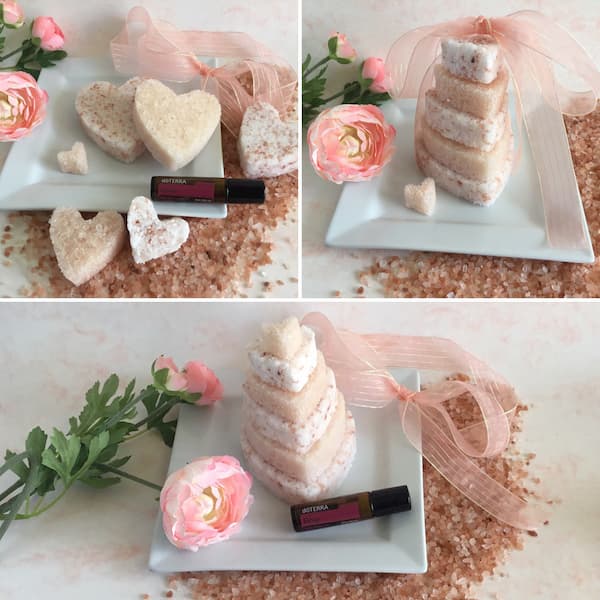 Enjoy!