Why I Created My Own doTERRA Kids Collection Diffuser Blends
I've fallen in love with the fresh scents of the doTERRA Kid's Collection. I just love the convenience of being able to quickly apply a pre-blended and diluted kids-safe roller to my children.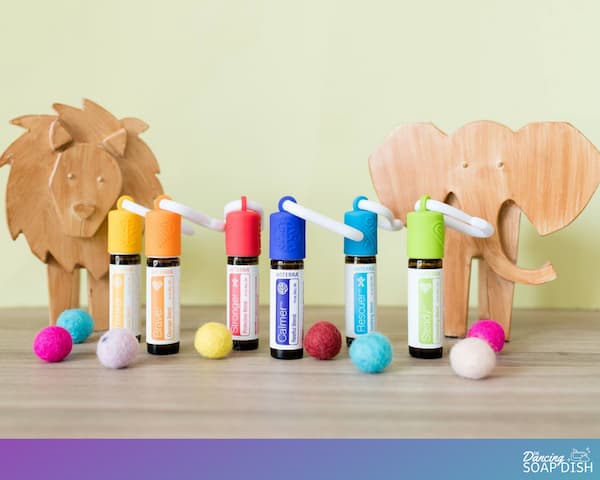 I love these six essential oil blends so much I've been dying to diffuse them in my home, but I gotta admit that this isn't exactly easy, since they are packaged in roller bottles.
So I set about creating my own collection of essential oil diffuser blends that mimic the gorgeous scents of the doTERRA Kids Collection using the essential oils that I have on hand.
About the doTERRA Kids Collection
If you're new to essential oils, let me explain what I'm talking about.
DoTERRA have a collection of essential oil roller bottle blends designed especially for kids called the doTERRA Kid's Collection.
This collection consists of six essential oil blends using essential oils and dilutions proven to be safe for children so you can simply 'roll and go'!
Here is a summary of the six doTERRA Kids Collection essential oil blends:
Calmer – provides a serene aroma, ideal for a peaceful bedtime routine. dōTERRA CalmerTM Restful Blend has a relaxing aroma, ideal for the end day wind down and to help you relax before a restful night's sleep.
Thinker – has been formulated to support when distractions are high and is ideal for when it's time to pay attention and refocus. dōTERRA ThinkerTM Focus Blend has a unique aroma to create a supportive and positive environment, ideal for enhanced creativity when you are looking for motivation or a positive influence.
Steady – has a soft, inviting, and slightly fruity aroma, ideal for a soothing environment. dōTERRA SteadyTM Grounding Blend can help soothe the skin, as well as balance and calm your mood when you feel overwhelmed.
Brave – has a bright and warm aroma, ideal for when you're feeling unmotivated. dōTERRA BraveTM Courage Blend helps to create a calm environment and can be used when you want to focus on courage and positivity, and the belief that you can accomplish anything.
Stronger – evokes feelings of wellness and vitality. The bright and uplifting aroma of dōTERRA StrongerTM Protective Blend is refreshing to the senses and is an ideal blend when you are not feeling your best and looking
for daily resilience.
Rescuer – has a fresh and relaxing aroma, ideal when you have had a day full of activity. dōTERRA RescuerTM Soothing Blend is comforting and soothing after exercising or a long day of physical activity.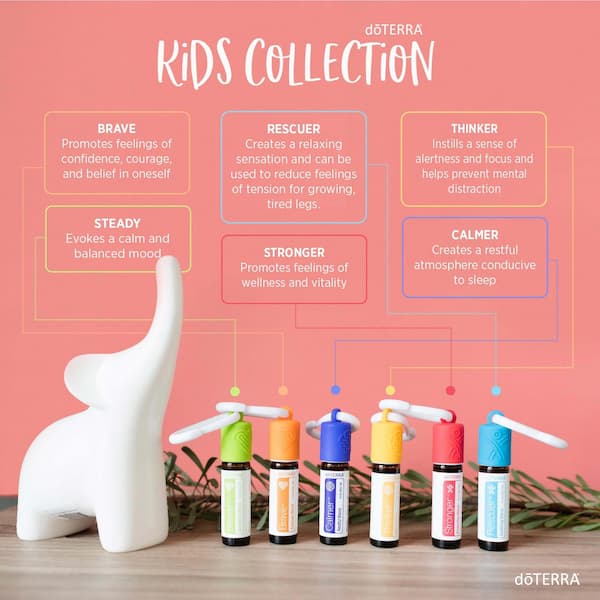 My doTERRA Kids Collection Diffuser Blends are Inspired, Not Copied
I want to stress that my doTERRA Kids Collection diffuser blends are inspired by the doTERRA Kids Collection in an effort to create a similar scent, or at least a scent you will enjoy if you like the original blend.
My blends are not direct copies of the doTERRA Kids Collection blends.
Why not?
Well, for starters these are doTERRA's proprietary trademarked blends and I am not privy to their recipes.
Plus doTERRA have also given us access to some unique essential oils in this collection like Cananga (Calmer), Zanthoxylum (Rescuer), Osmanthus (Brave), Balsam Fir (Steady), and Clementine (Thinker) which are not available in their current range of single oils.
As I want everyone to be able to enjoy my doTERRA Kids Collection diffuser blends, I've purposely chosen to use essential oils and blends available from the doTERRA Australia Product Guide.
Let's start diffusing!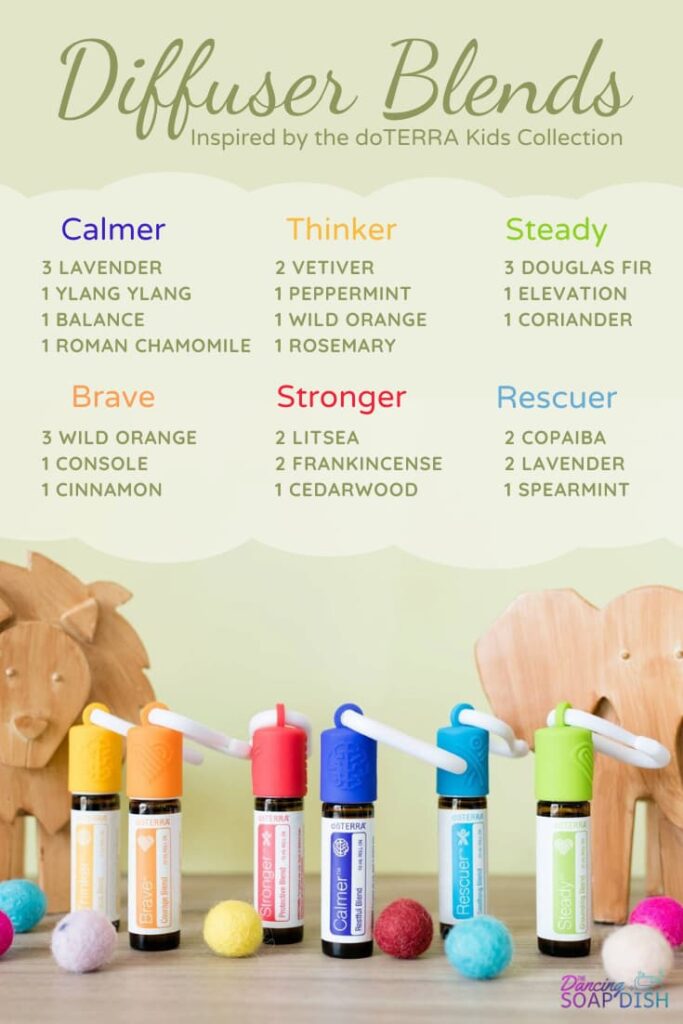 Calmer
3 drops Lavender
1 drop Ylang Ylang
1 drop doTERRA Balance
1 drop Roman Chamomile
Thinker
2 drops Vetiver
1 drop Peppermint
1 drop Wild Orange
1 drop Rosemary
Steady
3 drops Douglas Fir
1 drop doTERRA Elevation
1 drop Coriander
Brave
3 drops Wild Orange
1 drop doTERRA Console
1 drop Cinnamon Bark
Stronger
2 drops Litsea
2 drops Frankincense
1 drop Cedarwood
Rescuer
2 drops Copaiba
2 drops Lavender
1 drop Spearmint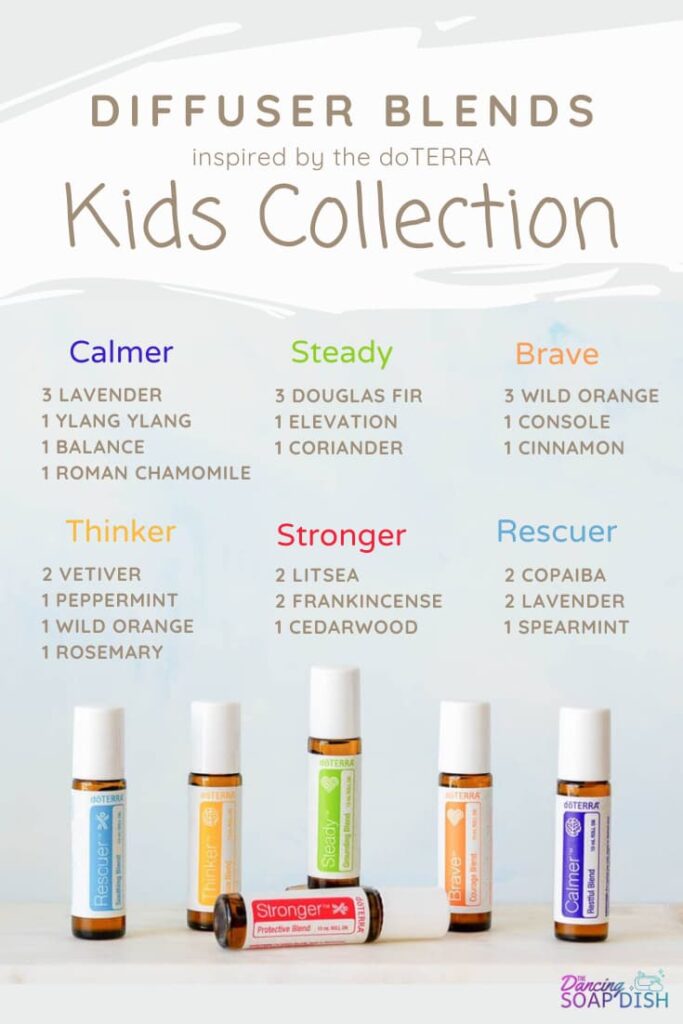 Enjoy!