Shower melts are one of my favourite essential oil accessories.  They are such a clever way to experience the benefits of Aromatherapy as you take a shower.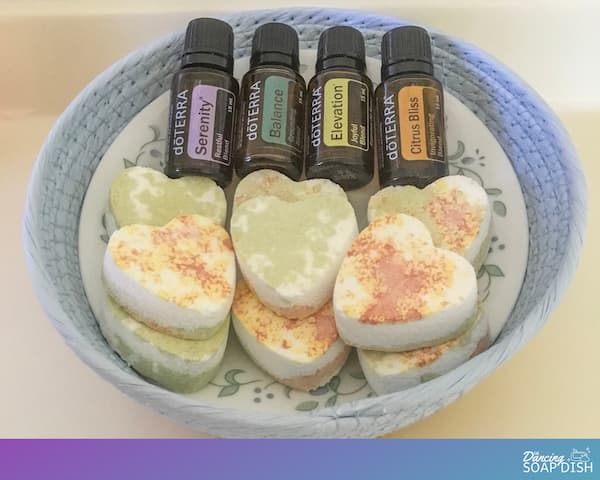 Shower melts are little cakes of bi-carbonate of soda, citric acid, corn starch and essential oils that fizz and melt as they get wet, diffusing the oils throughout your shower enclosure as they do so.
My Favourite Shower Melts Recipes
Here are my most popular shower melts recipes for those of you who don't have a favourite recipe of your own:
How to Make an Essential Oil Shower Melts Sampler
The All-Purpose Essential Oil DIY Recipe
The Best Shower Melts Blends
I make batches of plain melts and then add the essential oils just before I use them. I pick something different every time.
In fact I love to customize the scent of my shower melts depending on when I take my shower.  Today I'm sharing all of my favourite blends as well as when I use them.
Shower Melts Blends for Taking a Shower in the Morning
For a morning shower I use oils that are invigorating to wake me up and get me through my day.
Wild Orange and Peppermint
Lavender and Spearmint
Rosemary, Lemon & Cypress
doTERRA's Motivate blend
doTERRA's InTune blend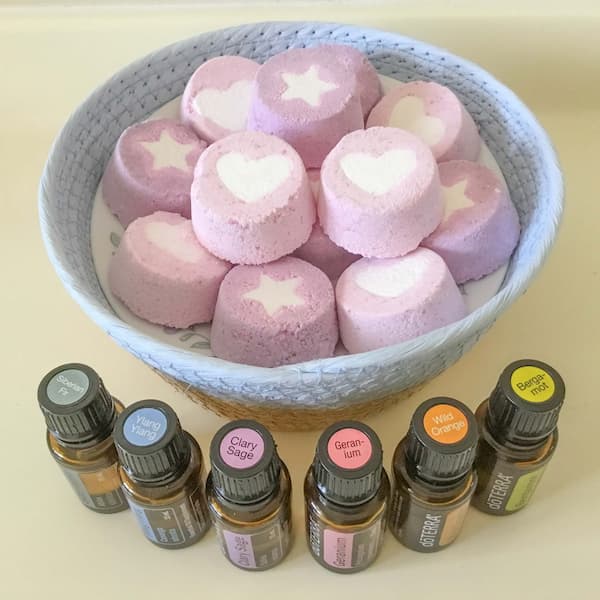 Shower Melts Blends for Taking a Shower in the Evening
For an evening shower I choose soothing oils to help me unwind and aid a restful sleep.
Lavender, Bergamot and Frankincense
Clary Sage, Wild Orange and Cedarwood
Vetiver and Lavender
doTERRA's Serenity blend
doTERRA's Peace blend
doTERRA's AromaTouch blend
Shower Melts Blends for Taking a Shower with a Stuffy Nose
Lavender, Lemon and Peppermint if you suffer when seasonal environmental threats are high in the morning, or doTERRA's Easy Air blend and Eucalyptus if you are congested.
Don't forget doTERRA's OnGuard if you wish to promote a healthy immune system during winter months.
Shower Melts Blends for Taking a Shower with a Headache
To soothe an aching head, try something like this:
Lavender, Frankincense and Peppermint
Copaiba and Spearmint
Lavender and Rosemary
If your headache is tension related, try doTERRA's Deep Blue.
Shower Melts Blends for Taking a Shower with a Bad Mood
Any of doTERRA's mood management blends are your best options when trying to shake-off a bad mood:
Balance
Elevation
Citrus Bliss
Serenity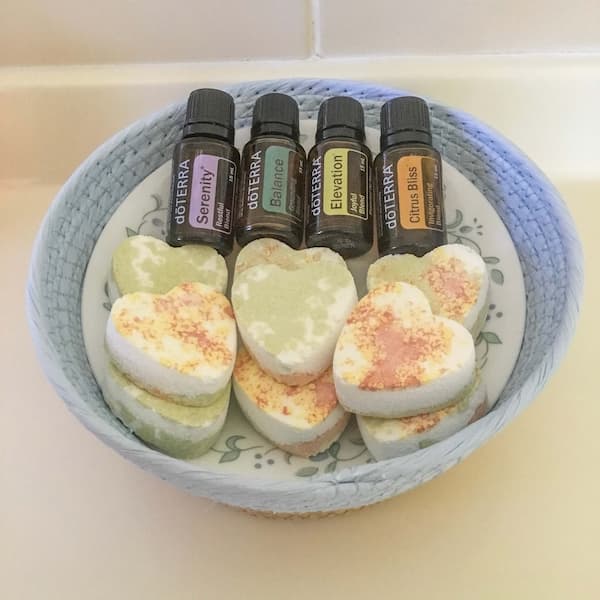 And there you have it. By using Aromatherapy shower melts during your shower time you can transform your mood, prepare you for your day ahead, soothe a sore and tired body, and prepare for a good-night's sleep.
What's your favourite shower melts blend?
Share it in the comments.
Enjoy!